Christie delivers Dr. James Moultrie as the next NIB Chairman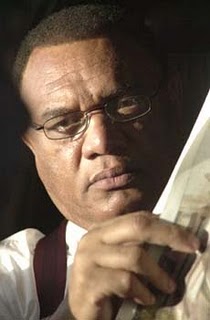 BREAKING NEWS <<< Prime Minister Rt. Hon. Perry Christie has his man now at NIB! In this breaking UPDATE we can confirm the Cabinet has approved Rev. Dr. James Moultrie is indeed the New Chairman of NIB.
BP's fly on the wall confirm Dr. Moultrie will be momentarily notified of the developments and shall meet with his Board as early as this week. Christie we are told wants to develop a new culture at the nation's social security network….
HALLELUJAH!!!
Jan. 8th, 2013
Press Statement
By the Prime Minister
The Rt. Hon. Perry G. Christie
I am pleased to inform the Bahamian people that one of our nation's finest sons and a man of unblemished integrity, Reverend Father James Moultrie Ph.D, Anglican priest and former Ambassador to the United Nations and former Parliamentary Secretary and member of the House of Assembly, has been appointed as the new Chairman of the National Insurance Board.
Father Moultrie's appointment, which has been made in accordance with the provisions of the National Insurance Act, takes effect today.
Father Moultrie has had a long and distinguished career, first in the sphere of education and the public service, then in the political sphere, then in international diplomacy, and for the past 18 years, in the religious life of our community.
Father Moultrie was an outstanding member of Parliament for the Rock Sound Constituency in Eleuthera, serving for 12 years (1980-1992).  During this time he also served with distinction as the Parliamentary Secretary in the Ministry of Education and the Ministry of Foreign Affairs.
Following his retirement from frontline politics, Father Moutrie served with great credit as our nation's Ambassador to the United Nations.
Following that, Father Moultrie pursued theological studies up to and including the doctorate level, and was ordained an Anglican priest, serving the Anglican Diocese for many years, most notably as Rector of the Church of the Holy Spirit (2002-2004) and then as the Rector of St. Matthew's Anglican Church (2004 to 2011).
Father Moultrie and his wife, Bernadette, are the parents of three children and they have six grandchildren.
My colleagues and I are delighted that Father Moultrie has accepted this appointment as the new Chairman of the National Insurance Board.
He is a man of impeccable character, honesty and discipline who will bring to his new position great leadership skills and a solid understanding of the mission and mandate of the National Insurance Board.
____END______