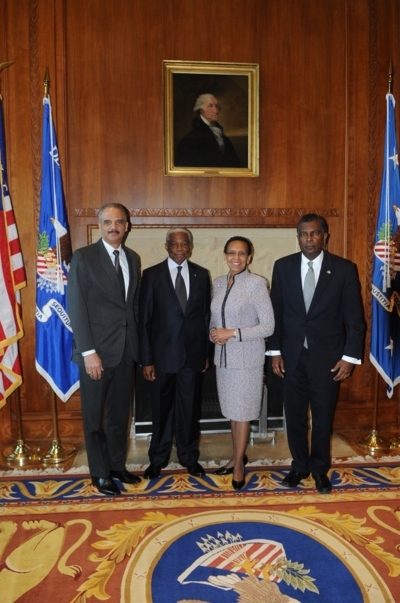 A team of senior government ministers travelled to Washington DC on Friday, March 22 for high level talks with United States Attorney General Eric Holder.
The delegation included Minister of National Security Dr. Bernard J. Nottage; Foreign Affairs and Immigration Minister Fred Mitchell and Attorney General and Minister of Legal Affairs, Sen. Allyson Maynard-Gibson. The discussions focused on national security issues including Human Smuggling, Trafficking in Persons, Gun Trafficking, opportunities for continued mutual assistance and other issues of mutual interest. This is in keeping with the governing party's pledge in its Charter for Governance to aggressively fight crime under its proposed Operations Safe Bahamas.
While in Washington DC the team also met with Ambassador Luis CdeBaca who heads the Department of State's Office that Monitors and Combats Trafficking in Persons globally.
These meetings follow on the heels of two days of bilateral talks between the two countries in Nassau in December 2012, culminating in the signing of an Amended Letter of Agreement (ALOG) and $2,135,000 through the Caribbean Basin Securities Initiative (CBSI) in support of this fight. The presentation took place on the 18th December 2013 at the Cabinet Office.
Signing the agreement on behalf of The Bahamas was Minister of Foreign Affairs and Immigration the Hon. Fred Mitchell and the Deputy Assistant Secretary of State for Central America and the Caribbean Liliana Ayalde signed for the United States.
This December talks offered an opportunity to review the current bilateral partnership with a goal of identifying emerging threats to both countries, strengthening existing security mechanisms, concluding negotiations on pending agreements, formalizing new areas of potential cooperation and seeking how new avenues through the partnership dialogue can be enhanced.
The Washington DC meetings with Eric Holder and Ambassador CdeBaca provided an opportunity for both countries to review the progress made to date and to continue to develop the initiatives explored during the December 2012 meetings.   The Bahamian delegation is due back in the capital on Saturday, 23rd March 2013.