Established Real Estate Broker Zack Bonczek, CRS, BRI Appointed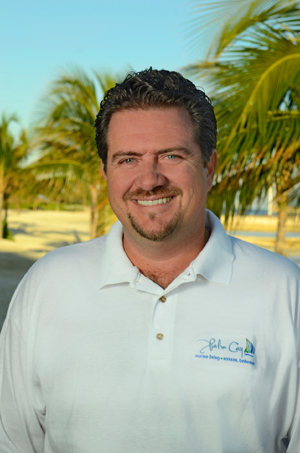 One of the nation's top performing real estate brokers and Bahamas Real Estate Association (BREA) lecturer Zachary Bonczek has been named Director of Sales & Marketing of the $200 million upscale residential development Palm Cay in Nassau.
Bonczek's appointment, effective January 1, was announced this week as a part of the roll-out of a new local executive and operations team that includes marina consultant Brooks Russell, Administrator and Property Owners Association director Iona Henderson as well as a host of local firms providing professional services.
"Our goal in Palm Cay is not just to build homes or neighbourhoods, but to create a community and we believe that with 'Zack' Bonczek at the welcome gate and Brooks Russell at the marina helm, we are building the kind of community that nurtures friendships and brings back that sense of being part of something good," said the Palm Cay Development. "A lot of people in the real estate industry can sell. What sets Zack apart is his absolute dedication to building a community."
A broker with the top CRS (Certified Residential Specialist) certification, Bonczek was instrumental in the development of the RE/MAX franchise in The Bahamas. He has contributed much of his time to the advancement of the real estate profession, serving as a director of BREA, chairing three of its committees at various times and offering his service as the current instructor for the Salesman's Entry Licensing Course.
Prior to moving to The Bahamas on Christmas Day, 1998 with his Bahamian wife, Bonczek worked in sales and marketing with a Fortune 50 telecoms company. He holds a Bachelor's degree in Marketing from Florida Southern College and has spent nearly 20 years in marketing, 12 of those in real estate.
"Every time I interact with a potential homeowner, I understand that the decision they are making goes beyond financial," says Bonczek. "It's emotional. That is why I am so excited to be part of the Palm Cay team. This is a magical place where I can say to the prospective buyer, 'I think you are truly going to be happy here. It's a great place to raise a family, to keep a boat, to run from the marina to Exuma on the weekend, to join friends in the clubhouse when the dining section opens soon.' There are so many great plans for Palm Cay and we are just on the cusp of making people aware of what a treasure this is."
The $200 million, 69-acre community at the eastern tip of New Providence, fully-funded by the developer, will include an array of single family homes, townhomes and condos along with the closest Nassau marina to Exuma and the largest — by number of slips — on the island. At the heart of the community is a clubhouse that is being transformed into a restaurant. A full calendar of events is slated for May and June.