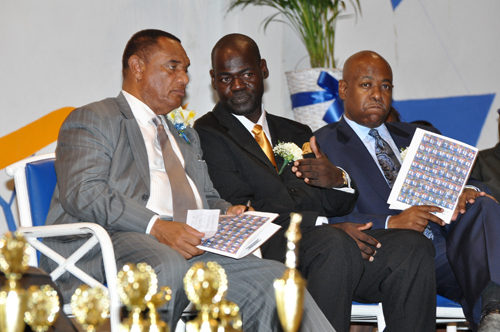 WEST GRAND BAHAMA, Bahamas — Prime Minister the Rt. Hon. Perry Gladstone Christie used himself as an example to show graduating students how they can move beyond failures and disappointments and still go on to achieve success.
Dwayne Higgins, Principal of the Eight Mile Rock High School, invited the Prime Minister to give the keynote address at the 2012 Commencement Exercise in the school's gymnasium  Thursday, June 14, 2012.
Also in attendance at the graduation was Member of Parliament for West Grand Bahama and Bimini and Minister of Tourism the Hon. Obediah Wilchcombe; Permanent Secretary in the Ministry for Grand Bahama, Melvin Seymour, and other senior government officials.
Prime Minister Christie told the 70 graduates, " I was never expected to go to university, because somewhere when I was 13 or 14, I was expelled from the Government sponsored high school, Government High School, on the basis that I did not reach the standard the school would accept as worthy of someone being able to go from the second form to the third form.
"When I was expelled I had to go home to tell my parents, and I had to experience the disappointment of parents who have seen their child in a competitive exam, pass for that high school where only 40 or so were admitted each year, only to be sent unceremoniously home."
"That was the first time I ever saw my father cry, the Prime Minister said.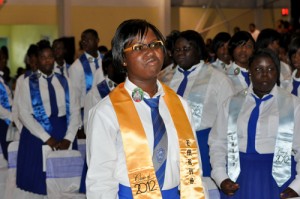 Things turned around, as his parents decided to send him back to school and Donald Davis, one of the country's veteran educators also saw something in the young Christie.  He ended up attending the Eastern Senior School and then night school.
Although he still had to endure teasing in the short term, Prime Minister Christie said he went on to pass 10 or 11 Bahamas Junior Certificate examinations, as well as Ordinary Levels and Advanced Levels of the General Certificate of Education examinations both at home and the United Kingdom.
He said after achieving those successes, he graduated from university in the United Kingdom and was a debating champion at university.
The Prime Minister explained that while in London, he met Sir Lynden Pindling, who wanted him to be active in politics and he also met Sir Orville Turnquest who gave him the opportunity to work at a law firm in the United Kingdom.
Upon returning to The Bahamas, he joined a big firm.  Then he met the former prime minister, the Rt. Hon. Hubert A. Ingraham who persuaded him to join him in a law practice.
The Prime Minister said things happened for him because he did not give up on his dreams, and he encouraged the graduates to do the same.   "You dare to hope; you have the courage and the sense to say that I have to make myself somebody." He added that they could use activities like sports and being active in Junkanoo to find discipline to do well in their studies.
"I used my athletic prowess to understand that you could only be good at it if you are disciplined and if you are disciplined in that, you can be disciplined in reading a book or studying," the Prime Minister said.
"I used Junkanoo for discipline.  You could only win Junkanoo competition if you sit for months and prepare a costume."
He also encouraged parents to be there to support and never give up on their children.
"In each of them there is something very bright, something very dear.  They have to find it and you have to help them find it," the Prime Minister said.