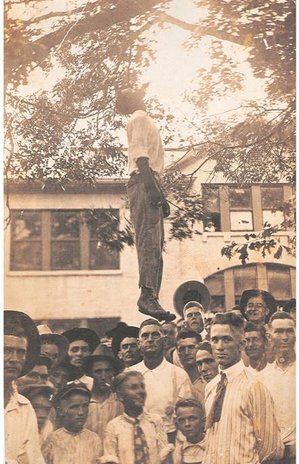 <<< Postcard depicting the lynching of Lige Daniels, Center, Texas, USA, August 3, 1920. The back reads, "This was made in the court yard in Center, Texas. He is a 16 year old Black boy. He killed Earl's grandma. She was Florence's mother. Give this to Bud. From Aunt Myrtle." As discussed in the article, lynchings were often motivated by economics, or were retaliations for violations of Jim Crow etiquette, with false accusations of murder made in order to justify them. This picture depicts a modern day slaughter by the Christies and their goons in the PLP. Perry Christie on Sunday told a room filled with young people on Grand Bahama, anyone who challenge him will be shut down.

Freeport, Grand Bahama – With its leader now refusing to step down, the Progressive Liberal Party is quickly turning into an organized model of the Ku Klux Klan. PLPs should now become very concern with the behavior of its leader Perry Gladstone Christie. Young liberals will not have it anymore and Christie's Hitler like ways is turning the PLP into a machine of hate, this time against young people. [Who makeup 70% of the Bahamian electorate].
Bahamas Press learned over the weekend Christie had traveled to the Island of Grand Bahama to scrap support for his October election. To our surprise young liberal attending the function quickly discovered that the event was not what was announced to be.
"The meeting was first designed as a youth forum for presentations by some bright college students. The PLP House, however, was also pack with members of the Women's Branch, aka Perry political sweethearts," a Progressive Young Liberal member explained.
"Therefore his had his fan club out there. The panel addressed concerns in education, immigration, the economy, health and tourism. After the panel of presenters answered questions, Christie got up and spoke for an hour and a half."
This is typical Christie galvanizing his rank and file to now drum up his supporters for his upcoming October PLP leadership race. However, BP understood that what sprayed from the lips of Christie was an odious message of "DEATH" to his opponents at the upcoming convention.
"He spoke about him as a young PLP etcetera. Then he went on to say that he is not a weak leader and began complaining a little to try to secure his votes.  Christie began bragging how long he's been in the business of politics [More than  32 years] and how he's never lost an election," The PLY member said. Now that was a DAMN LIE by Christie because May 2, 2007, is now recorded in the annals of Bahamian history and cannot ever be erased. Christie lost the last general elections to Hubert Alexander Ingraham and the FNM! In history he's also the first oneterm Prime Minister of The Bahamas.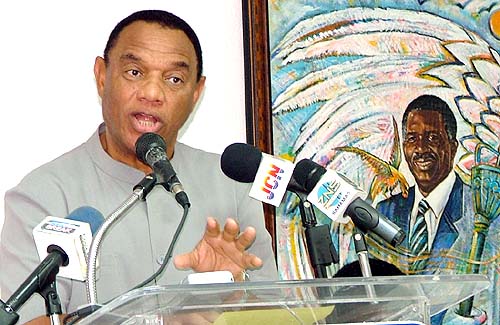 And according to the PYL member, this is where Christie's Nazi like speech got sour, "He further went on to say, anyone who challenge him will be shut down"
Christie continued saying that in life there are consequences and if you do things without thinking it through properly you will not succeed. "I am still the right man for the job. Until I see the right person to lead, I will gracefully move out of the way but there is no one who can lead the PLP other than PERRY G CHRISTIE," Christie said.
His comments were well received by the old stalwarts who went on screaming in a shout. But whilst the old was cheering with the aging leader of the PLP,  young persons who were in the majority at the meeting and are calling for CHANGE in the PLP shook their heads while others left the room and were seen gathering outside while Christie spoke his self praise remarks.
Firstly readers must remember that the event was suppose to be a 'Youth Forum', it later changed it to a PLP Women's Branch event with college students who don't live anywhere on the island.
The young PLP told Bahamas Press, "We have branch executives who are young college graduates on the island but was not even notified to take part in the event. That's the game they say, That's how it is." Hmmmmmmmm!
But as we said in our opening post, the PLP organization is now being fast tracked as a model of the Ku Klux Klan as its leader cries "DEATH" to his opponents.  My goodness could people really sit under someone saying things like that?