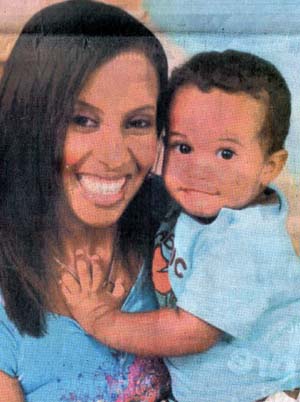 <<< Shooting victim Tagia Soles Armony and her son Chelan Armony.
Nassau, Bahamas — Tagia Soles-Armony, a 29 year-old mother of two children, was the mother killed over the weekend mercilessly in what is believe to be a robbery gone bad. Armony had just pulled up to her grandmother's home in Sea Breeze community with her children when suddenly appeared a gunman outside the window of her white 2008 Honda.
Her older son had just rung his grammy's doorbell when the attacker opened fire on his mother.
The Sea Breeze community has experienced a spate of robberies and carjackings lately. The gunman shot Armony at point blank range into her side and then fled the scene of the crime.
Armony attempted to drive away from the scene of the incident, however, she lost control and hit another vehicle. She died a short time later.
Bahamas Press wonders if this latest incident could have been avoided if  the scores of persons released out of the prisons by the Judiciary in April, May and June this year were still locked away awaiting trial.