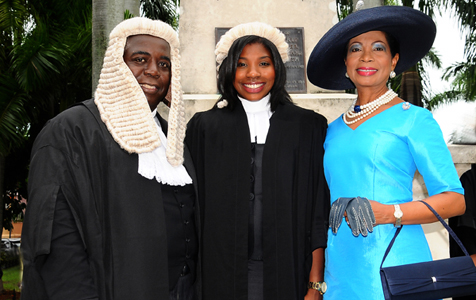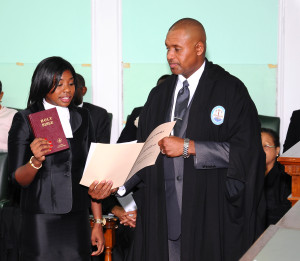 Nassau, Bahamas — On Friday, 25th September 2015, donned in the silk regalia of Queen's Counsel, Hon. Philip "Brave" Davis, M.P., Deputy Prime Minister and Minister of Works & Urban Development, presented his daughter to Lord Chief Justice Hartman Longley to practice law as a member of the Bahamas Bar. His daughter, Christina Epiphany Davis, who was born on the very day of his first election to the House of Assembly (6th January 1991), is Mr. Davis' only child that follows his footsteps in the legal profession.
The Deputy Prime Minister said that the presentation was the "humblest honour" of his life, noting that, apart from his wife, he was best qualified to advocate on her behalf. He touted that fact that Christina demonstrated the gift of independent thinking and action long before she could speak and that he was not surprised by her accomplishments. He recognised her innate gifts that enabled her to overcome hurdles to meet her objectives, advocate for social justice, and to set and maintain very high values and standards.
Christina graduated from Queen's College in New Providence. Her initial studies took her to major in Communications Studies with a concentration in Public Advocacy. She was admitted to the degree of Bachelor of Arts, Magna Cum Laude at a Congregation of the Northeastern University in Boston, Massachusetts, in May of 2012. It was during her time at Northwestern that she delved into minor studies in Spanish and Law Policy & Society.
Immediately thereafter, she pursued modules in Company Law, Law of Torts, and Equity & Trust. Subsequently, she was admitted to the degree of Bachelor of Laws with Upper Second Class Honours at a Congregation of the University of Kent held in England on the 15th day of July, this year.
She was admitted as a member of the Honourable Society of the Inner Temple on the 2nd day of April, last year and was called to the British Bar by the said Society on the 23rd day of July, this year.
She was deemed "Very Competent" by the University of Law in London, Bloomsbury, and awarded a Postgraduate Diploma in Bar Professional Studies in July of this year.
As she sought to achieve these goals, she was able to participate in pupillages and internships with Lennox Paton Bahamas Office, Graham Thompson & Co, the Bahamas Office of the Attorney General, and Health Law Advocates in Boston.
Among other things, she is the 2014 Westminster University Open Debate: Novice Champion; the 2010-2012 President of Caribbean Student Organisation of Northeastern University.
She speaks and writes the Spanish language fluently, and has enjoyed dance, ballet, gymnastics, softball, and soccer during her high school and university year as competition and leisure.
Christina's mother, Mrs. Ann Marie Davis, also witnessed this important occasion. Christina's siblings were on hand to celebrate as well.
Congratulations are extended to Christina and the entire Davis family.