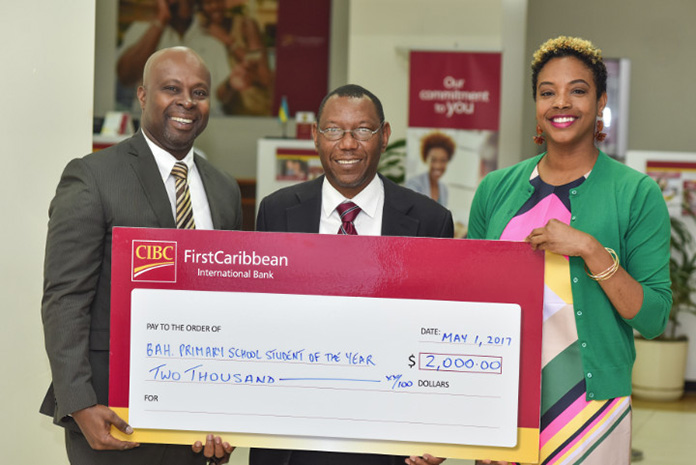 Nassau, Bahamas – A promising primary school student will receive an academic scholarship to assist with junior high school tuition fees for the next school year when The Bahamas Primary School Student of The Year Foundation winner is announced at the awards ceremony on May 27th.
CIBC FirstCaribbean donated $2,000 to the Foundation to help cover tuition fees for the top student.
"CIBC FirstCaribbean is very proud to support this program. We are committed to encouraging young people to empower themselves and be successful. Programs like this one help to teach our children to work hard and celebrate their accomplishments," said Maya Nottage, the bank's Marketing Manager.
President of The Bahamas Primary School Student of the Year Foundation, Ricardo Deveaux, said the annual event was established for students graduating primary school and entering junior high school.
"We've been investing in our students through the foundation for the past 20 years so this is something that we are very committed to; they deserve recognition for their hard work throughout the years and they need incentives to keep pushing. We ensure that they get that motivation through this awards programme," Deveaux said.
Deveaux also noted that the top students from each primary school in New Providence are selected by their school board to be nominated for the scholarship award. Once they are nominated, students are required to submit a portfolio with their progress reports and two essays, which will then be evaluated by an independent panel of judges.
Students are also judged by their school grades, leadership skills and extra-curricular activities.
Deveaux thanked CIBC FirstCaribbean for the donation.
"We are truly grateful to CIBC FirstCaribbean for their gracious donation because they have been a really good corporate partner for us and have assisted us tremendously in our endevours."
CIBC FirstCaribbean has supported The Bahamas Primary School Student of the Year Awards programme since 2002.