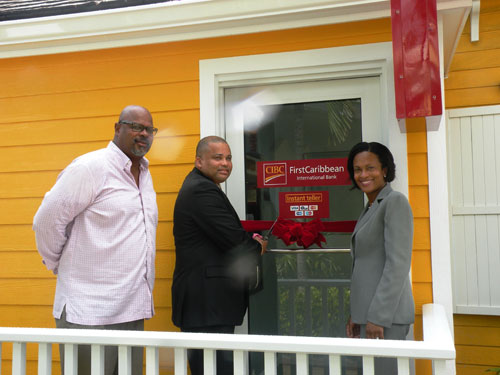 Nassau, Bahamas – CIBC FirstCaribbean has installed a dual currency Automatic Banking Machine (ABM) in the Atlantis Marina Village on Paradise Island to the benefit of both area staff and local and international visitors to the popular harbour side shopping and entertainment strip. Senior Management of CIBC FirstCaribbean and Atlantis gathered to inaugurate the new ABM and welcome the machines first enthusiastic customer, Atlantis guest, Laurie Berry.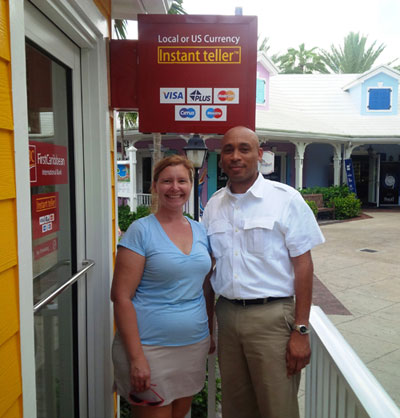 The machine is the latest in a series of installations and upgrades CIBC FirstCaribbean has been making to its ABM network across the Island. The machine, which dispenses both Bahamian and American currency and provides sophisticated, fast and efficient e-banking services 24/7, follows similar installations at CIBC FirstCaribbean's Bay Street branch and at the Sir Lynden Pindling International Airport.
Managing Director, Marie Rodland-Allen, stated that Paradise Island was the logical next location for their new technology roll-out, as the closure of the Paradise Island branch earlier this year left CIBC FirstCaribbean customers who live or work on the island, missing the convenience of their home bank.
"The machines at the airport and Bay Street branch have been well received by our clients, visitors and staff as a progressive and timely service addition. We realised Paradise Island would benefit too, especially with the ABM's accessible location for visitors to the island and for the many Atlantis staff who are also customers of the Bank and looking for convenience in executing their day-to-day banking activities. Our response so far has been enthusiastic and we look forward to continuing to serve."