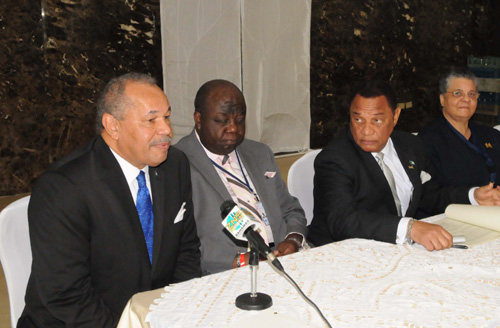 The President of The College of The Bahamas Dr Rodney D. Smith has signed an Organization of American States (OAS) Cooperation Agreement that formalizes student scholarship and faculty teaching and research opportunities.
President Smith signed the agreement on Friday, April 10th, 2015 following the inaugural University Presidents Forum held under the auspices of the VII Summit of The Americas in Panama City, Panama.
The accord paves the way for a reciprocal arrangement under which students and faculty of The College of The Bahamas will be able to study and teach at tertiary institutions in other OAS-member countries, while students and faculty of those institutions will participate in study aboard and academic instruction experiences at The College.
As it transitions to become the University of The Bahamas, The College has been embracing these kinds of opportunities to enrich its academic community and advance diversity in academic instruction, learning and leadership.
"For cohesive, but diverse higher education that will have a strong impact on development in the region, we must begin to partner with each other. While we each want our institution to be the institution of first choice for our national students, we must extend our borders and welcome study abroad and student exchange opportunities with each other," President Smith explained of the arrangement while participating as a panelist at the university presidents forum.
The Government of the Republic of Panama invited President Smith to attend the first ever Forum of University Presidents of the Americas at the VII Summit of the Americas. He was one of the first speakers at the forum which attracted approximately 450 university presidents from North, Central and South America and the Caribbean.
Dr Smith made his presentation as a member of a panel of Presidents that also included the University of Panama, University of Havana, Georgetown University and the University of Mexico.
"We are excited about receiving your faculty and students as we seek to send faculty and students to other OAS member institutions," noted President Smith. "This diversity will strengthen higher education in the region and it will drive innovation specific to the development of island nations with differing challenges."
He signed the OAS Cooperation Agreement at an official ceremony in the presence of Prime Minister Right Honourable Perry G. Christie, who is also Chairman of CARICOM. Minister of Labour and National Insurance Honourable Shane Gibson; Minister of Foreign Affairs and Immigration Honourable Fred Mitchell; Minister of Health Honourable Dr. Perry Gomez and Minister of National Security Honourable Dr. Bernard Nottage were also in attendance at the signing ceremony. Members of the Diplomatic Corps, including the Permanent Representative to the United Nations His Excellency Dr. Elliston Rahming, and Permanent Representative to the OAS His Excellency Dr. Eugene Newry, were also present.
The forum of university presidents was organized to examine cooperation challenges with a view to achieving prosperity through education.