For what purpose did the DNA go to CUBA? Was it to investigate Cuba's Alleged Sexual Tourism Trade? WHAT WAS THE MISSION!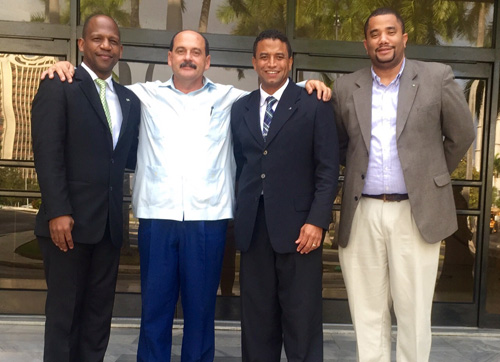 For many years, the Bahamas and Cuba have enjoyed a mutually beneficial diplomatic relationship, which has, in both the long and short term, provided the platform for communication and the advancement for both our peoples. Now with the country preparing for a shift in its economic model and increased development through a renewed relationship with the US, the stage has been set for even greater collaborations between our two countries in the future.
Members of the Democratic National Alliance's Leadership team which included Party Leader Branville McCartney, Deputy Leader Christopher Mortimer and Chairman Andrew Wilson, recently returned to the Bahamas from Cuba following the first in what is expected to be a series of diplomatic missions to neighboring Caribbean countries as the party continues its journey to the 2017 general elections.
While in Cuba, DNA leaders were afforded the opportunity to meet with officials from the Cuban government and held productive talks on a number of key issues ranging from oil exploration, to the future of the Cuban economy along with other issues of mutual concern for our two countries. Those meetings provided the DNA the opportunity to gain that government's perspective on the Bahamas as well.
Such discussions are particularly important as Cuba and the United States – one of the Bahamas' largest and most significant allies – prepare to resume a trade relationship. With that in mind it is crucial that Bahamians be cognizant of the changes and developments taking place in that country and position themselves to capitalize and benefit from those changes.
Outside of the obvious economic and political discussions held, the visit to Cuba also offered key insights into and lessons about the country's rich and diverse culture which they have managed to integrate into the very aspect of the country's landscape; a fete which successive governments have so far failed to do locally.
The Democratic National Alliance believes that these discussions and similar discussions to be held with the governments of our other regional counterparts can become an asset in the development of our own social, political and economic plans as we push forward to a 22nd Century Bahamas.
THE PUNCH HAS NOW RESORTED TO THIS!???