BEC could help the effort and just shut power down across the island – WE USE TO THIS!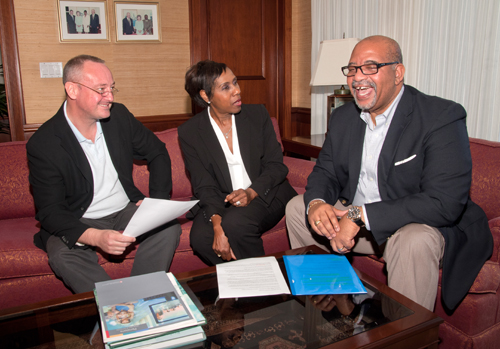 Nassau, Bahamas – Three leading insurance and pension companies will spend 60 minutes plunged in darkness, joining millions of people around the world who will observe the global environmental initiative known as Earth Hour.
Colonial Pension Services, Security and General Insurance and Atlantic Medical Insurance will turn off all their lights for an hour on March 27 between 10:00 a.m. and 11:00 a.m.
They are taking action in the run-up to Earth Hour, which will be observed on Saturday, March 29.
They're not alone.
The Empire State Building, Buckingham Palace and the Golden Gate Bridge are also observing this initiative, which started in 2004 in Australia and has since spread to more than 7,000 cities and towns worldwide.
Vice President of Colonial Pension Services, Larry Gibson said while the group is starting with a very "narrow nexus" it could spread out to church groups and other organisations.
"In our own little way we think we can help and make a contribution," he said.
"As a group, all of our companies are very socially minded. That's a key part of our whole corporate mission."
General Manager of Security & General, Terence Rollins explained why companies should follow in their footsteps.
"The whole concept of uniting people to protect the planet is a great idea," he said.
"This is something that costs nothing to people to take part in. In fact, it actually saves them money. It's a great thing to do for our future and it's just a great way of getting people aware about protecting their environment and getting them not to use too much unnecessary energy and of course to be conscious of the fact that we've got a depleting ozone layer and that we've got rising sea temperatures and all of the hazards that these things bring about, which are clearly very important for us as an insurance company group, but should be important for everybody in the globe to be mindful of."
Mr. Rollins also noted that his company tries to eliminate all unnecessary lighting overnight in a bid to reduce its energy consumption.
"It's really just a case of going around the office and trying to encourage people not to consume unnecessary electricity and just to be aware of the environment," he said.
Executive Vice President and General Manager of Atlantic Medical Insurance, Lynda Gibson said her company is in the process of inviting some of its corporate clients to join in on the initiative on Thursday.
"We're sending out invites to some of them now and we are encouraging our staff to take one hour on the weekend of this event to turn their power off in their homes. So, it's not just in the office. Hopefully this will start something for them as well because we're all guilty of having the computers and the chargers plugged in. You'd be surprised to know what happens once we unplug these things and turn the lights off," she said.
She added that Atlantic Medical's energy consumption has been reduced over the years.
"I think it's gone down because on the weekends and after hours we turn our AC off. We have timers involved. If we have staff coming in on the weekend we make adjustments so that they'd be comfortable, but we don't leave the power on all weekend or after hours," she said.
Meantime, Colonial Pension Services also has a major event coming up in May. It has contracted the services of two-time Emmy Award-winning TV host and New York Times bestseller, Suze Orman. She will discuss retirement financing.
Atlantic Medical is also preparing for its 16th Annual Fun Walk, which will be held on April 12.