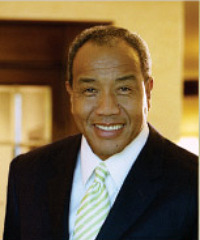 Jamaican born Billionaire, Michael Lee-Chin, is Chairman of Portland Holdings Inc. Mr. Lee-Chin made his fortune in Canada providing financial services.
Sold AIC's Canadian retail investment fund business to Manulife Financial August 12, 2009. Stepped down as Chief Executive Officer of AIC Limited on October 4, 2006.
Born in Port Antonio, Jamaica in 1951, Michael immigrated to Canada in 1970 to study civil engineering at McMaster University in Hamilton, Ontario. After beginning post-graduate studies, Michael decided to explore career opportunities within the mutual fund industry. At the age of 26, Michael became a financial advisor and, with growing success, progressed to the position of branch manager.
In 1983, at the age of 32, Michael borrowed money to purchase $500,000 of Mackenzie Financial stock. After four years, this stock appreciated seven-fold, and Michael used the profits to make his first acquisition, a small Ontario-based investment firm called AIC Limited. At that time, Advantage Investment Counsel (a division of AIC Limited) had assets under management of just $800,000. Within 20 years, assets under management for this 1987 acquisition had surpassed $4 billion. AIC Limited was to become the first in a series of acquisitions for Michael Lee-Chin, Chairman, Portland Holdings Inc.
Michael has distinct beliefs regarding wealth creation, role modelship, and his firm's investment strategy. AIC's goal is to create long-term wealth for investors. To achieve that objective, Michael looked for role models – those business people who created wealth in society by owning one or two businesses. For this reason, Michael established AIC's investment philosophy of buying few excellent businesses in long-term growth sectors and holding these businesses for the long term in order to help AIC investors prosper by preserving and growing their capital and minimizing taxes.
As a result of his investment philosophy, AIC stands today as one of the largest privately held mutual fund companies in Canada. Michael was named Entrepreneur of the Year in 1997. In 2002, he earned the Harry Jerome Award for a decade of achievement. Michael has been profiled in Forbes, Fortune, Canadian Business, Black Enterprise, National Post and Time magazines.
Following the acquisition of AIC Limited in 1987, Michael set about developing the Berkshire group of companies – comprising an investment planning arm, a securities dealership, and an insurance services operation. Under Michael's stewardship, Berkshire was able to amass more than $12 billion of assets under administration by 2007. At that time, Berkshire had also grown to form a network of 750 financial advisors operating in 250 offices across Canada. In 2007, Manulife acquired Berkshire from Portland Holdings in exchange for shares, making Portland one of the most significant shareholders of Manulife.
In 2002, Portland's interests expanded internationally with the acquisition of National Commercial Bank (NCB) Jamaica Ltd. and its subsidiaries. Since becoming part of the Portland group, NCB profits have increased to approximately US$100 million from US$6 million. NCB today stands as Jamaica's largest bank with 45 branches, 2,400 employees, and offices in the Caymans and the United Kingdom. NCB was awarded the Latin Finance 2007 Bank of the Year Award.
In April 2006, Portland acquired an 85% controlling stake in the United General Insurance Company, the largest auto insurer in Jamaica, and renamed the firm Advantage General Insurance Company. A controlling interest in CVM Communications Group (consisting of radio and television stations and newspapers) was purchased at the same time. Portland partnered with Risley Group to form Columbus Communications Ltd. – a Barbadian corporation that holds controlling interest in a number of telecommunications providers in the Caribbean including Cable Bahamas Ltd., Caribbean Crossings Ltd., Merit Communications Ltd. and FibraLink Jamaica Ltd.
In the tourism sector, Michael has guided Portland through a number of acquisitions in the Caribbean. Among them, the Trident Villas and Spa in Jamaica, Reggae Beach and Blue Lagoon.
The first Portland acquisition in the health care industry sector was announced by Michael in July 2006, when Medical Associates Limited, a privately held hospital in Kingston, Jamaica, joined the Portland group.
In November 2003, Michael received an honorary Doctor of Laws degree from McMaster University in recognition of his business success and philanthropic initiatives, and in July 2004 was honoured by Time magazine as one of Canada's Heroes and one of the country's most intriguing and inspiring citizens. In 2008, Michael received one of Jamaica's highest national honours – The Order of Jamaica, for his significant contributions to business and philanthropy.
Forbes Magazine ranks him as the 365th (2006) richest person in the world with a net worth of $2.1 billion, making him the richest black person in the world. Recently formed a $1 billion private equity group based in Toronto to invest in the Caribbean.
"If you aim at nothing you'll hit it with amazing accuracity."