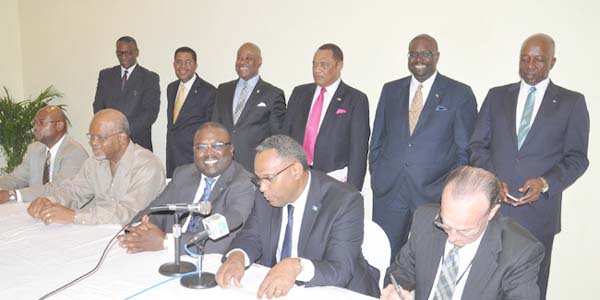 FREEPORT, Grand Bahama – The Government of the Bahamas on Tuesday signed a contract with SRA Construction Company for repairs to the Grand Bahama Produce Exchange.
Situated adjacent to the local farmers market, the Produce Exchange has been in poor condition for some time now.
Minister for Grand Bahama, the Hon. Dr. Michael Darville noted that the facility was starting to become somewhat of an eyesore, as it was situated near the Farmer's Market where many tourists frequent.
The contract signing came following a historic meeting of the Cabinet of The Bahamas in Freeport, Grand Bahama on Tuesday, July 28.
A number of contracts were signed in Freeport Tuesday, including those for construction of the Fire Station, 36 low cost homes, and extension to the C.A. Smith Complex.