PLENTY CONTRACT WORK BEING ISSUED TO BUILDERS…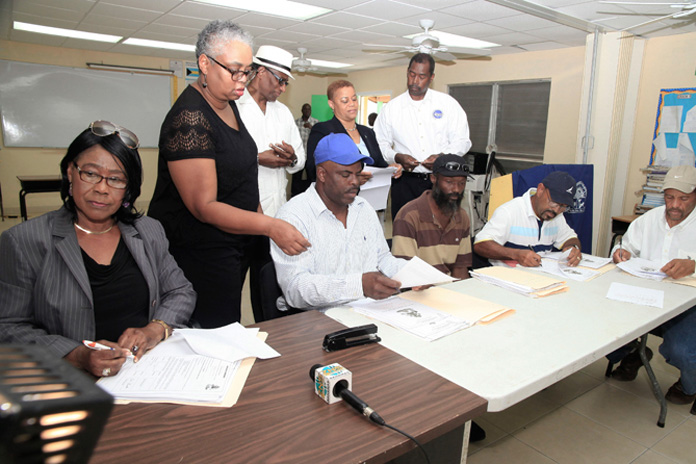 NASSAU, The Bahamas – More than $500,000 in contracts were issued to contractors for the repairs to Government buildings severely damaged by Category 4 Hurricane Joaquin, which passed through the Central and Southeast Bahamas in October 2015.
A team comprising the National Emergency Management Agency, the National Repair and Reconstruction Unit, the Minister of Agriculture and Marine Resources, the Minister of Financial Services and Local Government, recently visited Crooked Island and Acklins to issue the contracts.
In Crooked Island, contracts totaling $255,051.84 are to repair the Environmental Health Services Building; Colonel Hill School principal's residence, Colonel Hill Clinic, the Administrator's residence, and the Landrail Point Clinic.
And in Acklins, repairs to the Local Government building, Department of Environmental Health Services building, Social Services, Mason's Bay Clinic, the Post Office, Court Building, Administrator's Office, the Consumer Affairs building, Spring Point Clinic and Doctor's Residence cost an estimated $526,455.71.
Family Island Administrator for Acklins Francita Neely underscored the importance of getting repairs to her office and residence completed:
"My office is the life of the island and it very important repairs are completed soon so as to get the island back to some sense of normalcy," Mrs. Neely said.
The Hon. Hope Strachan, Minister of Financial Services and Local Government also noted how important it is for repairs to Government facilities to be completed.
"This is an important day for the community in Crooked Island, especially for the Administrator, who has been working elsewhere," she said.
The Hon. V. Alfred Gray, Minister of Agriculture and Marine Resources and the Member of Parliament for the islands impacted by the hurricane urged the contractors to "make haste slowly" – meaning, finish the work quickly but properly.
In a town meeting at the Crooked Island schoolroom, he also told the businesspersons who also suffered damage to their businesses that the Government is considering adding to the financial assistance offered by the Bahamas Chamber of Commerce to restore their establishments.
Additionally, the Government through the Ministry of Finance has extended the duty exemption to April 1, for residents to purchase, duty free, household appliances destroyed during the passage of the hurricane.
Director of NEMA Captain Stephen Russell urged residents to properly fill out their Exigency Applications so as to allow a smooth process in processing their claims.
Contractors engaged in Crooked Island are Lorenzo Moss, Whitney Scavella, Clinton Scavella and Ernel Heastie. Contractors in Acklins are Julius Chisholm, Lionel Rolle, Curtis Hanna, Ivan Strachan and Marcel Collie-Moss.
Family Island Administrator for Acklins Harvey Roberts said "it is a slow process but we are getting there one day at a time."
Also on those Family Island visits on Thursday, February 25, 2016 was Melanie Roach of the National Repair and Reconstruction Unit.