Major Breakthrough in Murder Investigations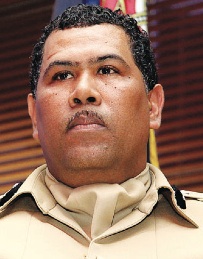 PRESS STATEMENT BY THE COMMISSIONER OF POLICE
ISSUED BY COMMISSIONER ELLISON GREENSLADE
WEDNESDAY 12TH DEC. 2012
PAUL FARQUHARSON'S CONFERENCE CENTER
Members of the media; good morning; and welcome to this morning's proceedings.  On Sunday 9th December, 2012 at approximately 6am, members of the Central Detective Unit arrested a twenty two year old Bahamian male of southern
New Providence for questioning in respect to the death of Dario Knowles of Fox Hill.  As a result of this arrest, a second twenty two year old Bahamian male who resides in Eastern New Providence was also taken into police custody on Sunday  9th December, 2012 at approximately 5pm.  Thus far, I am  pleased to report that coming out of these initial enquiries, our investigations have been expanded to now include twenty three murders that have occurred in New Providence.  I can also report that all of these incidents occurred in southeastern and eastern New Providence respectively.
As Commissioner, I wish to further advise the Bahamian public that we are expected to arraign persons before the courts before the end of this week in at least five of these matters.
I am further pleased to advise that we are currently following significant leads in these twenty three homicides and we are optimistic that going forward, this major breakthrough will result in an unprecedented numbers of homicides being cleared up and suspects arraigned before the courts for the offence of murder in the very near future.
I wish to take this opportunity to publicly applaud the hard work of members of the Central Detective Unit, Uniform Operations and all of the support units of the Royal Bahamas Police Force for their consistently good work and their commitment to making the Bahamas a safer place to live, play work and visit.
As you can appreciate that due to the sensitivity of ongoing enquiries and the fact that more persons are expected to be taken into police custody, I am constrained not to say much more at this time.  However, I have instructed that at the appropriate time, Inspector Chrislyn Skippings, Public Affairs and Communications Officer (PACO) will inform you the members of the media as to when further arraignments will be made.  I also wish to take this opportunity to thank the Bahamian public for their unwavering support of the Royal Bahamas Police Force over the many years; but even to greater extent, during this calendar year.
As we approach the Christmas Holidays, I wish to renew our commitment to ensuring that all members of the Force including the Commissioner of Police will be out in the community to deliver high quality policing services throughout the season and into the New Year.  Thank you.