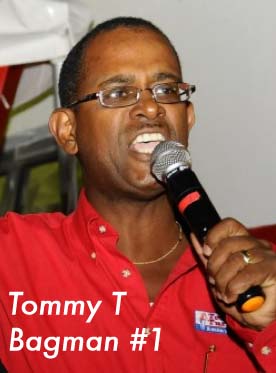 Barbarians Attack Government!
Nassau, Bahamas – ZNS press statement reports two BEC truck operators went to its 1540 AM transmission site in the southern end of the island and following that visit station went off air. The copper fitted in the tower was stolen, and as they say the rest is history.
This was the third copper theft at the station's transmission site.
Now this is interesting because a security is on guard in the area 24 -7. Bahamas Press went to the site some weeks ago, and we reported how after two earlier copper thefts at the same location, the area was still not gated, and a derelict boat was sitting on the government land.
Days after were reported ZNS never did a damn thing and now once again thieves have made good on expensive public equipment.
The security officer never reported the names of the men coming onto the property. The officer never confirmed to ZNS head office of the invasion by the BEC work cruises. The officer never took the plate number of the vehicles, so who do you think should be implicated here; THE BEC truck drivers or the security officer?
BP wonders when in the hell will this society get it right? Here is a clear example of BLATANT WUTLESSNESS and NEGLIGENCE!
Here we go again is FAILURE MANAGE BY TOMMY TURNQUEST!
WE NEED CHANGE!