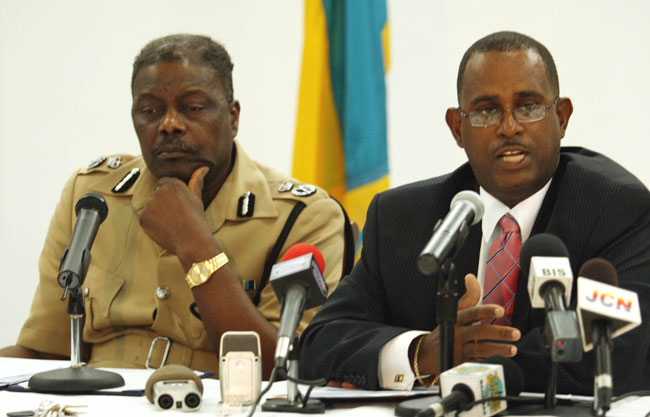 <<< Minister of National Security the Hon O A T 'Tommy' Turnquest (right) with Police Commissioner Reginald Ferguson provided details of the new Crime Reduction Strategy launched by the Royal Bahamas Police.
NASSAU, The Bahamas — The Royal Bahamas Police Force launched a new Crime Reduction Strategy in New Providence on Thursday (August 27).
It is expected to reduce the number of murders and robberies by targeting 'prolific offenders' and criminal 'hot spots'.
The strategy will be employed in other areas of The Bahamas.
Minister of National Security, the Hon O A T 'Tommy' Turnquest said the strategy is part of his Ministry's efforts to ensure that "no effort is spared" to get hardened criminals off the streets "and brought to justice."
"Let me assure the Bahamian people that every effort and resource are being utilized to reduce crime and the fear of crime and that under no circumstance will criminals, particularly hardened criminals, be allowed to wreak havoc in our country," Mr Turnquest said.
The Crime Reduction Strategy has four main tenets that will focus on reducing the number of homicides, armed robberies, stolen vehicles and break-ins.
Prolific offenders will be targeted with a view to disrupting their operations, Mr Turnquest explained.
he Strategy will also target "areas of concern." This will be accomplished through a maintained police visibility and by providing rapid responses to criminal activities in those areas.
The new strategy should lead to enhanced public confidence and a reduction in the fear of crime, Mr Turnquest said.
"Let me say that the Police know who the prolific offenders are, as well as their areas of operation and they will be targeted," Mr Turnquest said. "Every measure will be used to apprehend them and bring them to justice."
While crime remains at "an unacceptable level," particularly the violence with which, especially young men, increasingly respond to disagreements, misunderstandings and conflict, he observed.
The new strategies that have been implemented will bring about change in those areas, he added.
Statistics for the first seven months of 2009 show increases in murders, armed robberies and robberies over the same period a year ago.
"These are the areas that the Royal Bahamas Police Force has prioritized in the Crime Reduction Strategy it has launched, particularly on New Providence," Mr Turnquest said.
"We each have to do something positive to change it. The Government and the Police will provide leadership, but law enforcement cannot be our only solution. Our Police Force needs strong partnerships in this initiative and in law enforcement generally.
"They need increased citizen, community and private sector partnerships in areas such as Neighborhood Watches and intelligence gathering.
"We need parents to teach their children to respect law and order and the values and traditions on which our country was built.
"What we do not need is parents who condone their children in wrongdoing or turn a blind eye to their misdeeds."