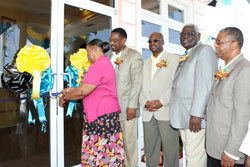 GRAND CAY, North Abaco — Health outcomes are expected to dramatically improve in this remote fishing and diving community following opening of the new Community Health Centre here, Friday.
The Centre boasts a state-of-the-art electrocardiogram (ECG) machine which health officials say is "one of the most critical" pieces of diagnostic equipment healthcare providers can have.
The new clinic has a modern maternity ward, comfortable examination and treatment rooms, fully equipped dental and X-Ray suites, a two-bed overnight ward, and a pharmacy. It is also has resuscitation and stabilization equipment.
Ambulatory services for seniors and persons with chronic, non-communicable diseases, will also be provided.
Plans are also underway to strengthen the delivery of ante-natal and post-natal services with the posting of a qualified midwife by January.
The Centre was officially opened by Minister of Health, Dr the Hon Hubert A Minnis. Also present were Minister of Housing, the Hon Kenneth Russell; National Insurance Board, Chairman, Patrick Ward; and National Insurance Board, Director, Algernon Cargill
Last Wednesday the Nicholls Town Community Health Centre in North Andros was re-launched.
Healthcare services at the Miriam Greene Community Health Centre in Johnson Bay, South Andros was re-launched August 26.
"The construction of this state-of-the-art clinic underscores this government's commitment to the direct delivery of primary and urgent healthcare services on remote and isolated areas such as Grand Cay," Dr. Minnis said.
"Without the availability of trained healthcare workers and adequate facilities and supporting health infrastructure at the local level, residents in remote communities such as Grand Cay would be disproportionately impacted by health conditions when compared to residents in New Providence and the other developed islands.
"The provision of basic healthcare services and basic diagnostic testing such as ECG and X-Ray facilities with the equipment used in resuscitation and/or stabilization in this remote setting, will go a long way towards reducing health inequities within certain areas of The Bahamas."
Grand Cay residents are confronted with the same health challenges – obesity, hypertension, heart disease, diabetes, arthritis and respiratory illnesses – as other Bahamians.
The new Centre replaces the original clinic which was destroyed by Hurricane Wilma in 2005. Clinical services were elocated into a rental facility while the new clinic was being constructed.
"As Minister of Health and a physician, I am always delighted to see the expansion and improvements of healthcare facilities in the Family Islands," he said. "Improving access to affordable primary healthcare services to all areas of The Bahamas is a goal of this Ministry and the Government."