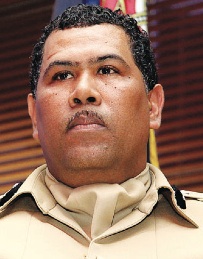 FOUR MALES ARRAIGNED FOR CONSPIRACY TO COMMIT ARMED ROBBERY & ARMED ROBBERY
Grand Bahama, Bahamas – In relation to the armed robbery of a local food store in the Freeport area that occurred on Wednesday 9th May, 2012 at approximately 8:55pm, THOMAS HANNA Jr. DOB 14th August, 1983, HARRISON RIGBY DOB 27th November, 1986, FREEMAN THURSTON DOB 12th January, 1988 and a 17 year old juvenile, all of Freeport, were arraigned in Magistrate's Court No. 2 before Magistrate Andrew Forbes. The four men were charged for Conspiracy to Commit Armed Robbery and three of the men (Hanna not included) were also arraigned on the charge of Armed Robbery. They were not required to enter a plea and the preliminary inquiry is set for 3rd October, 2012.
The four men accused in this matter were remanded to Her Majesty's Prison until the adjourned date as aforementioned. We commend the officers for the diligence and commitment to bring closure in this matter and we also thank members of the Grand Bahama community and the media for their continued partnership in
the fight against crime.
Kindly refer to Press Release #78 that was sent on Thursday 10th May, 2012 for more information.
HOMICIDE VICTIM #5 IDENTIFIED
The 46 year old man who was stabbed in the Pinedale area of Eight Mile Rock on Monday 14th May, 2012 at approximately 10:00pm has been officially identified as PETER BENEBY AKA PETER CHARLTON DOB 5TH March, 1966 of Hanna Hill, Eight Mile Rock.
Please note the 'Press Release #79' sent on 15th May, 2012 for additional information.
TWO ARMED ROBBERS ARRAIGNED IN MAGISTRATE'S COURT
This morning, Wednesday 16th May, 2012 at 10:00am, DARREN THOMAS PEDICAN DOB 23rd October, 1975 and OVAL IRA MCINTOSH DOB 12th May, 1974 of Hanna Hill, Eight Mile Rock, were arraigned together in Magistrate's Court No.1 before Magistrate Debbye Ferguson on the charge of Armed Robbery and House Breaking.
They were not required to enter a plea to the charge of Armed Robbery and the matter was adjourned for the preliminary inquiry on 26th September, 2012. This arraignment is in relation to a report that was made on 7th April, 2012 by a female resident of Hudson Estates, when the men reportedly entered her home while armed with a handgun and robbed her of jewelry and cash. The matter was investigated by officers at the Central detective Unit and the two accused men were subsequently charged.