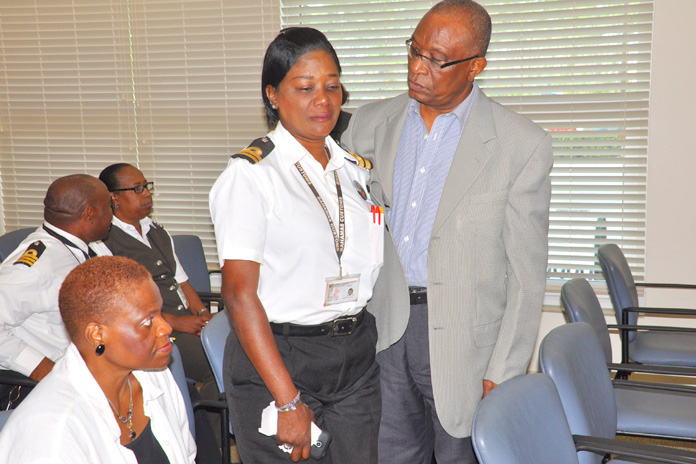 FREEPORT, Grand Bahama – The Customs Department in Freeport, Grand Bahama was in total shock and disbelief on Friday as they gathered to mourn the passing of Senior Customs Revenue Officer, Kevin Hanna.
Mr. Hanna, 49, was killed by bandits at his South Bahamia home Thursday afternoon, March 31, 2016. Police are continuing their investigation and are seeking the public support in apprehending the culprits.
On Friday morning, Customs Officers on Grand Bahama, joined by a few staffers from the Immigration Department assembled in the Conference Room of the C.A. Smith Complex to get whatever update they could on the matter and to remember their fallen colleague.
Many of the Customs officers, male and female could be seen crying openly and comforting each other. Psychologist Dr. Pamela Mills, was also on hand and could be seen lending her support.
Addressing the media and fellow staffers, with tears and some crackling in his voice Mr. Sherick Martin, Assistant Comptroller of Customs said "it is with great sadness that we announce the passing of our colleague and friend, Senior Customs Revenue Officer Kevin Hanna, whose life was snatched away by evil men but whose spirit remains a bulwark and stands as a testimony to those of us who knew him."
According to Mr. Martin, Mr. Hanna joined the Customs Department on May 1, 1987 and rose to the ranks through hard work, dedication, honesty and a commitment to succeed.
"Words are indeed inadequate for me to express our grief and sorrow of this senseless act for one who embodies the true spirit of a Bahamian son, husband, father and friend and although we mourn his passing we are confident in the fact that his good example will live long thereafter," he told staffers and others.
Continuing he said that Kevin was intelligent, honest and very reliable, having all the virtues of a good civil servant.
"His contribution to our Bahamaland will be etched in our memories. He served with distinction within the Customs Department where his service was required at the Freeport Harbour and where he would have met most of the residents arriving on the ferry vessels and businessmen throughout the Northern Bahamas," he stated, adding that Mr. Hanna during his career in Customs also served in New Providence, West End, Grand Bahama and Eleuthera.
Concluding, Mr. Martin said that "on behalf of the Comptroller of Customs and his executive staff, officers and members including the clerical staff of the Customs Department, Staff of the Immigration Department in Freeport, we extend sincerest condolences to his wife Paula, daughter T'Shura, mother Mildred and his entire family. May his soul and the souls of all departed rest in peace."