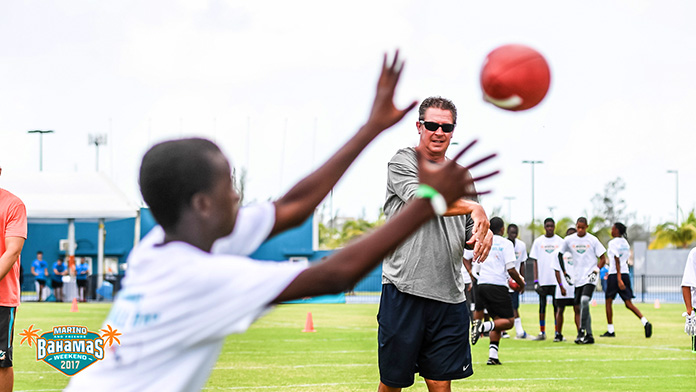 Pro Football Hall of Fame Quarterback Dan Marino and Dolphins Alumni held their annual trip to Nassau on Memorial Day Weekend for the Dan Marino and Friends Bahamas Weekend 2017.
Throughout the weekend, guests mixed and mingled with notable Dolphins alumni, including Marino, Dick Anderson, Ronnie Brown, Mark Clayton, Mark Duper, Oronde Gadsden, Jim Jensen, OJ McDuffie, Terry Kirby, Sam Madison, Nat Moore, Joe Rose, Pat Surtain, Jason Taylor and Shawn Wooden.
"It's always better in The Bahamas," Marino said. "I look forward to this weekend each year, getting together with my former teammates and really enjoying the great hospitality of the Bahamian people while giving back."
The weekend kicked off with a welcome reception and golf draw party on Thursday evening. On Friday, the alumni and guests participating in a golf classic at Ocean Club. Each golf foursome included the exclusive opportunity to play with a Miami Dolphins Legend or celebrity. The golf classic on Friday wrapped with an awards luncheon and a Bahamas Bash party.
The weekend concluded on Saturday with a free fan fest at Thomas A. Robinson Stadium. The day was packed with great festivities for families, including Youth Football & Cheer Clinics for kids ages 6-17 teaching boys and girls the fundamentals of the game from Dolphins alumni or learning dance moves and chants.
"The Bahamas Ministry of Tourism is grateful to Dan Marino and the Dolphins Legends for their continued support of the Islands of The Bahamas, and, in particular, their commitment to our youth," The Islands of The Bahamas Ministry of Tourism Director of Sports Virginia Kelly said. "We know that the technical football and cheerleader training and invaluable lifelong lessons the alumni shared with our youth will resonate in their hearts and minds for years to come."
The day culminated with competitive flag football games between Nassau, Freeport, Abaco, Exuma and a Dolphins Legends vs. Bahamas Legends Flag Football Game.
Proceeds from the Dan Marino and Friends Bahamas Weekend for the first time benefit the Bahamas Resource and Education for Autism and Related Challenges (R.E.A.C.H.), a non-profit organization that aims to provide parents with comprehensive knowledge and tools in all areas of this neurobiological disorder. Proceeds also benefit the Miami Dolphins Alumni Player Assistance Fund, which provides financial support to assist former players in need.
"REACH is really happy to receive this donation. We try and help a lot of kids along the spectrum in The Bahamas. We're hoping that the funds will go a long way," REACH Chair Dwayne Gibson said.
(Photos/Miami Dolphins)