Some 120 residents voted for Munnings Road to be closed.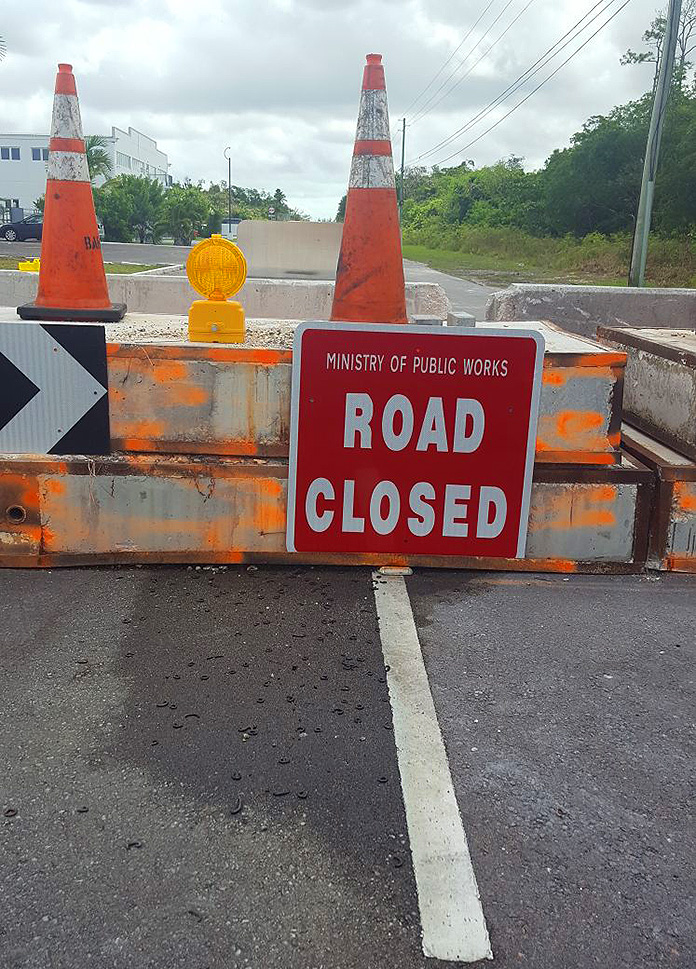 Near death experience can occur with road closure…
Nassau – The government's decision to close access to Munnings Road from Gladstone Road is a bad decision and will result in a traffic nightmare in the Gladstone Road area, Leader of the Opposition and former Minister of Public Works Philip Brave Davis said yesterday.
In a public notice on April 27, the Ministry of Works advised that it was carrying out works on Munnings Road in regard to the intended closure and cul-de-sacing of the street.
"The intended closure and cul-de-sac of Munnings Road is such that Munnings Road will be a no-through road from Gladstone Road to John F. Kennedy Drive effective May 1, 2018," the notice read.
"The ministry apologizes for any inconvenience caused.
"Residents are asked to utilize the roundabout at Westridge entrance for access to Munnings Road."
Davis said, "I do have concerns about that because that road was the road that was paved under our administration to give the residents in that area proper roads, because it was in a horrible state.
"We reconstructed the road, paved it and it also aided in feeding traffic from the south and the Gladstone Road area.
"From what I am hearing about this, we [already] have a nightmare during the rush hour for traffic for quite some time.
"I know about the concerns of people using the road, speeding on the road.
"But that's a question of enforcement.
"If concerns are there, they should have the road monitored for speeding as opposed to closing it."
Davis said the government considered putting speed pumps or ripples on Munnings Road, but technical engineers advised against it.
"It's a bad decision," Davis said of the road closure.
Asked how much it cost to construct the road, Davis said he was unable to recall, but noted, "we did it in-house".
Minister of Public Works Desmond Bannister had no comment on the matter yesterday.
The Nassau Guardian understands that the decision was made to close the road after Prime Minister Dr. Hubert Minnis, the MP for Killarney, met recently with residents, many of whom asked that the road be closed so they will have more privacy.
There are concerns about speeding and a possible rise in criminal activity with the general public having access to the area to get from Gladstone Road to John F. Kennedy Drive, near Lynden Pindling International Airport.
Some motorists have since complained that the closure is causing worse traffic congestion on Gladstone Road.
In a Facebook post Deb Knowles said, "If the Ministry of Public Works is closing Munnings Road, off Gladstone Road, they better make sure there is a police officer directing traffic at the JFK [roundabout] from about 7 a.m.
"Gladstone Road is already a parking lot in the morning, with people driving down both sides of the grass and into oncoming traffic.
"This is a disaster waiting to happen."