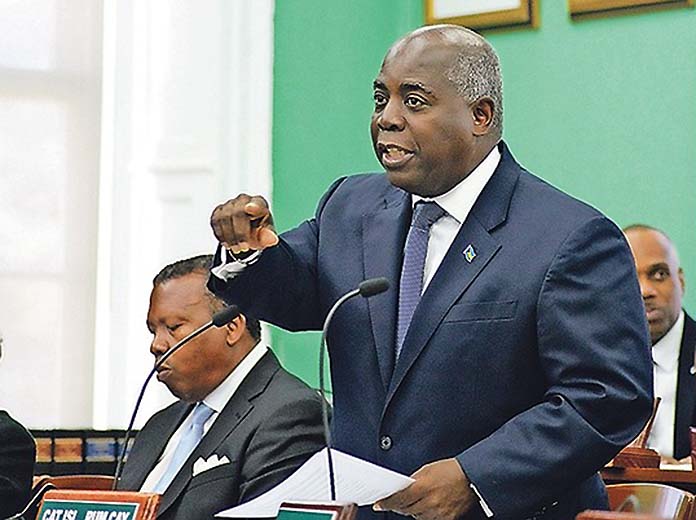 Nassau – Given the fact that the FNM Government has no expertise or track record of success in the hotel industry, Opposition Leader Philip 'Brave' Davis advises that they should have taken a more cost-effective and fiscally-prudent strategic approach in their move to purchase the Grand Lucayan Resort.
Davis, who was speaking recently in Parliament, pointed out that the proposed guarantee attached to the resolution that was provided, reveals that Hutchison Whampoa covenanted to keep the Lighthouse Pointe open until completion of the sale, provided that the Government pay a subsidy to cover the operational losses of the resort.
"On top of the $65 million, I call for the Prime Minister to provide and lay on the table of this honorable house all other additional costs and liabilities, inclusive of staff benefits, severance payments, closing costs, insurance, professional fees and projected operating losses for at least the next 12 months," Davis said. "I find it quite remarkable that the dollar value of the hotel's operating losses was somehow predetermined at the time of execution of the sale agreement."
Criticizing this latest move by the Government, the MP for Cat Island, Rum Cay and San Salvador said he finds it also remarkable that an undisclosed amount was paid, leaving a balance of approximately $1 million to be paid in seven instalments.
Furthermore, he noted losses of more than $1 million were for an unspecified period. The agreement, he said, was signed on the 15th August and sale completed on the 12th September.
"Pray tell, did the amount paid and to be paid, cover the losses for 28 days or a longer period," he said. "Moreover, how were they able to predetermine the losses? Perhaps the Prime Minister or his Finance Minister can clarify these anomalies for the benefit of House members."
Davis stated that if the objective of the present administration is to save jobs in the immediate term and to facilitate the rebound of Grand Bahama, then they could have just "fund" the operating losses for a period of six months or until such time a buyer can be identified.
"This is certainly a more cost-effective and fiscally-prudent strategic approach," he said. "This approach serves the public interest better than the Government's proposed route."
Davis suggested that as the Government moves forward, they should enlist Tourism industry stakeholders to assist in facilitating the sale of the major resort property to private investors.