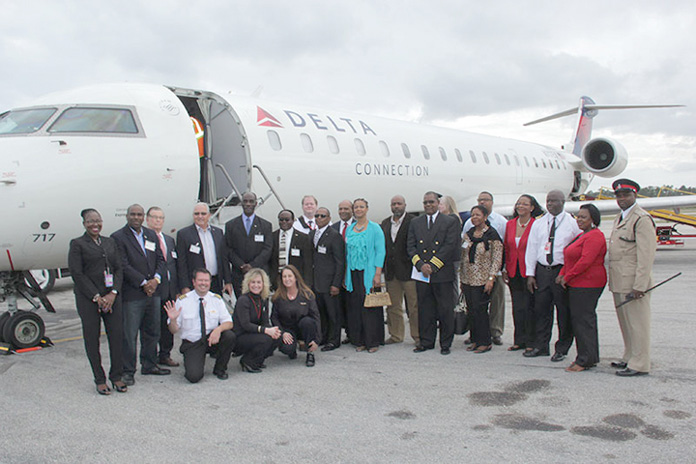 A full Delta flight carrying 77 people touched down at Marsh Harbour, Abaco on Saturday, December 19 – and with it brought a new partnership with the island.
The jet was one of two that made its inaugural trip to the Family Islands over the weekend.
The other was made in North Eleuthera.
Delta now has direct service from Atlanta to Nassau, Freeport, Exuma, Abaco and North Eleuthera.
In Marsh Harbour, flights will come twice a week on Tuesdays and Saturdays.
During a special inaugural ceremony held at the Marsh Harbour International Airport, Permanent Secretary in the Ministry of Tourism Harrison Thompson said tourism officials would like to see the flight's frequency increase to daily service.
"This is really an historical day in The Bahamas to have two inaugural flights happen in The Bahamas. The ministry is proud of what Delta brings to the table because Delta is a brand name and we look forward to working with them," he said.
"We have an office in Atlanta that would be mandated to do some marketing and through our Plantation office. We plan to market this island and Eleuthera. So we are looking forward to great things happening. We are going to put a lot of marketing effort into it because we want to increase the number of flights. In order for us to do that we are going to work hard."
The Ministry of Tourism is also partnering with the Out Island Promotion Board to market the new flight service.
Executive Director of the Out Island Promotion Board Kerry Fountain said he is excited about marketing the new service.
"Delta will deliver 7,000 seats throughout the year if they maintain the current frequency. This bodes well for the islands particularly members of the Out Island Promotion Board. We will be reaching out with Delta's Vacations team as well as the airline to get them familiar with this product. I think if we invest in familiarizing them with what we have to offer we are basically doubling our sales force," he said.
"The people who boarded the plane are coming from all over the US – Boston, Washington DC, Baltimore, Chicago and Houston. We are working very, very closely with the Ministry of Tourism. We are going to target the Delta customers and so whenever they shop online our advertising will follow that."
Member of Parliament for North Abaco Ricardo Curry said he is excited about Delta coming to Abaco and advised Abaconians to take advantage of the new service.
"Many of our tourists in Abaco have second homes and have to travel through Miami and New York to get to Nassau. Having this service from Atlanta, which is another hub, gets our guests to come more," he said.
"Bahamians love to shop and having direct access to Atlanta where they can go to shop is a great thing. Atlanta is a great place to visit. I'm sure that the people of Abaco would love to go to Atlanta. I advise Abaconians to take advantage of this opportunity."
Regional Sales Manager with Delta Richard Pile said Delta has had a good working relationship with The Bahamas and the airline continues to spread its wings.
"This just tells you the level of commitment Delta has for The Bahamas. The people of The Bahamas are the biggest sellers of the Delta product. They know our product and they know what Atlanta has to offer," he said.
"I encourage everyone to come see us in Atlanta. Coming in on the flight, there were at least six people who told me how much they appreciate the flight. So having this non-stop from Atlanta was like a hooray. There was so much excitement on board and the warm, usual Bahamian welcome made it even better."