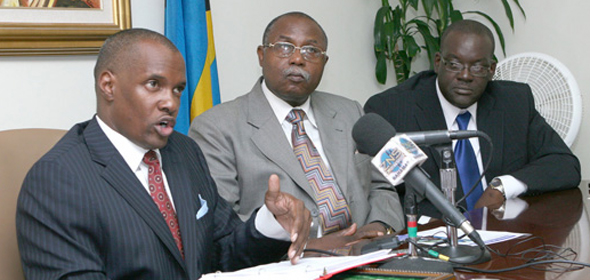 NASSAU, The Bahamas — Minister of Education the Hon. Desmond Bannister said he was "extremely pleased"  to announce that 16 Bahamas General Certificate of Secondary Education (BGCSE) subjects in 2010 showed an improvement in Grade Point Average when compared to 2009.
During a press conference at the Scholarship and Educational Loan Division, Thursday, August 5, Mr Bannister said these subjects are: Art and Design A, Art and Design B, Art and Design C, Biology, Bookkeeping and Accounts, Chemistry, Economics, English Language, Food and Nutrition, French, Graphical Communication, Literature, Mathematics, Office Procedures, Physics and Religious Studies.
He noted that Geography remains totally unchanged.
Mr. Bannister explained that the BGCSE examination is designed to show what students know, understand and can do after having completed a prescribed course of study, which normally lasts for three years.
"The grades awarded to students are indicators of their achievements and their potential, and not the sum of total of their worth," he said.
The examination is designed to cater to at least 80 per cent of the grade 12 population, and the grades awarded show students' learning outcomes, which are measured in a variety of ways, because of the different requirements in individual subjects.
A total of 100 centres registered candidates to write the 2010 examinations.  Forty-four were government schools and 56 were private institutions, Mr Bannister explained.
Six thousand nine hundred and sixty (6,960) candidates were registered to sit the examination.  This number represents an increase of 3.6 per cent when compared to 2009, which had a total of 6,716.
The average candidate entry this year is again five.  The total number of subjects offered is 27.  The highest number of subjects taken by any one candidate was 11.
English Language, Biology and Mathematics continue to remain the subjects of choice for the vast majority of students.  Mr Bannister said Auto Mechanics, Clothing Construction and Electrical Installation remain the least subscribed subjects.
It is also to be noted that even with the more heavily subscribed subjects such as Mathematics, English Language and Biology, none had a 100 per cent subscription rate. This partially due in part to some schools entering 10th and 11th grade students to sit the subjects a year or two in advance of graduation, he said.
It is important to point out that the majority of candidates sitting the more heavily subscribed subjects usually sit only the core papers.
Fourteen of the 27 subjects tested have Core and Extended papers, Mr Bannister said.
"It is critical that we point out that the highest which a student is able to receive on the Core Component is a 'C'.  It is only the candidates who sit the Extended paper who are able to achieve grades of 'A' or 'B'."
The Minister said he is pleased to report that compared to 2009, a number of centres have improved their performance in 2010.  These centres include both government and private schools across the country.
"This year the number of candidates who have obtained at least five subjects at grade C or above has increased by 10.43 per cent when compared to 2009," he said.
"This year the increase in the number of candidates who were successful in obtaining five or more subjects at grade 'C' or higher shows possibly the biggest improvement in this statistics in the history of the examination, improving to 921 compared to 834 in 2008 and 788 in 2007," Mr Bannister said.
In public schools there has been a 32.88 per cent increase in the number of candidates obtaining at least five subjects with grade 'C' or above.  In 2009, there were 222 candidates as compared to 295 in 2010.
The Minister said 19 candidates were able to achieve grade 'C' or higher in 10 subjects.  This is a most commendable accomplishment.  This compares to a total of 12 candidates in 2009.