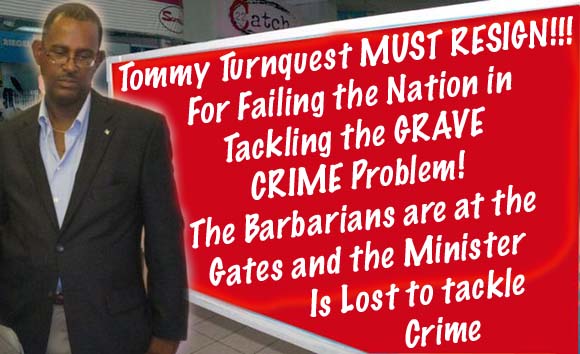 Nassau, Bahamas — Like a chicken without a head Tommy Turnquest has lost his last jar of marbles and could be heard on national radio screaming in frustration on Wendall Jones Show 'Issues of the Day' on Wednesday.
"MY NAME IS TOMMY TURNQUEST" he said, shaking like a reed as if some bandit, many of whom are reeking havoc all over the country, was holding a gun to his head.
With his throat cracking at times and his vocals trembling at the sound of every vowel, the now defeated minister of national security was all but short trying to tell Wendall Jones to stop callers from calling into his show. THIS IS INCREDIBLE!
The very minister who gloated over OPENING AND FREEING the airways this week took to the airways to tell an independent broadcaster how to run his show before an already angry mob of national listeners. Those listeners are sick and tired of the silence and paralytic state of the government to tackle crime. They are fed up with the constant bloody trail of violence, mayhem, cold heartless murdering, vicious raping, barbaric maiming, bestial 'jookin', heinous stabbings and villainous daylight robberies; by many repeat offenders released on bail back into the society since 2008. The country is under SIEGE!

Crime in the country has surged to an all time high where it has become so bad last week members of the public were just short of almost 'cussin' the new Commissioner of Police, telling him 'Hush UP!' And in a bold move even FNMs have join the chorus in telling the failed Minister to, "GO AND GO NOW!"
Turnquest was one of the trio who went to South Africa and has yet to report to the public or suggest why he was there. We know there were visits to half naked belly dancers while in South Africa, and we are told an African woman is now claiming that a high-ranking Bahamian official left her impregnated with an Afro/Bahamian child. Hmmmmm!
When Justice Rhonda Bain was wrestled to the ground by a Rwandan Style Gangster and became a victim of crime outside the Scotia Bank on East Bay Street, where was Tommy's voice?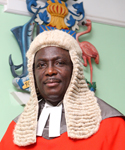 When Justice K. Neville Adderley's home was ransacked with more than $200,000 worth of stolen items were taken by thugs out of his secure Lyford Cay home where was Tommy's voice? He said not a DAMN WORD ABOUT THE INCIDENT?
When ILLEGAL military ultrasonic speakers were located in the garage of a home in Point House, Lyford Cay, WHERE IN THE HELL WAS TOMMY's VOICE? He couldn't find a mic much less a radio station to talk about crime then.
Where was the voice of TOMMY TURNQUEST, the minister of national security, when THUGS vandalized robbed the BAHAMIAN Passport Office out of $7,500 and its vehicle? The Passport Office holds the most sensitive information of almost every citizen in the country and Pro Tech Security firm failed to secure that property from bandits. That security contract has yet to be terminated. 'BOY WE JOKIE EH?'

Where was the minster charged to whip crime under control when the Supreme Court of the Bahamas was vandalize and ransacked by lawless, organize crime gangsters?
WHERE IN THE HELL WAS TOMMY'S VOICE when the rampage continued at the Nassau Street Court Complex, then at two locations at Bahamasair sales offices [UNDETERMINED WAS STOLEN], at First Caribbean Bank [OVER $20,000 WAS STOLEN], and at the Department of Immigration where some $6,500 of public money vanished in thin air by BANDITS? Where was Tommy?
He said not a DAMN WORD to ALL THESE INCIDENTS! We at BP would not be so hard on Tommy had he not claim he would eliminate crime. We would not be so hard on him had he taken our warning in 2007 and resign from the office; for rooted thugs need men with spine and we know Tommy's spine is brittle.
Moreso, since Jones show was not loud enough, Tommy decided to repeat his flopped performance on Steve McKinney's Show, Hard Copy, as the host talked about the WUTLESS STATE of CRIME AND LAWLESSNESS IN THE BAHAMAS! The Minister of Broadcasting [TOMMY TURNQUEST] who is set this week to FIRE scores of workers at ZNS, could be heard again telling Mr. McKinney to tone the message down. WHAT THE HELL IS THIS? Has Tommy felt the heat of BP YET?
As we said with Carl 'UNDERNOURISHED' BETHEL WE NOW SAY TO TOMMY TURNQUEST! WE SHALL LAY A VICIOUS CUT_YOU_KNOW_WHAT ON YOUR political career until you resign from office or opt for the people to throw you out of the Cabinet.
YOU HAVE NO SHAME! YOU HAVE BEEN MOST NEGLECTFUL IS TACKING THE CRIME PROBLEM IN THIS COUNTRY! YOU SHOULD BE EMBARRASSED FOR WHAT YOU DID TO THE BAHAMIAN PEOPLE! And we will have GOOD AND VALID REASONS TO FIRE YOU!
TOMMY TURNQUEST MUST RESIGN FOR HIS NEGLECT IN TACKING CRIME IN THE BAHAMAS!
WE WANT CHANGE!