Duane Sands was granted permission to work back in September. Who else was granted the same?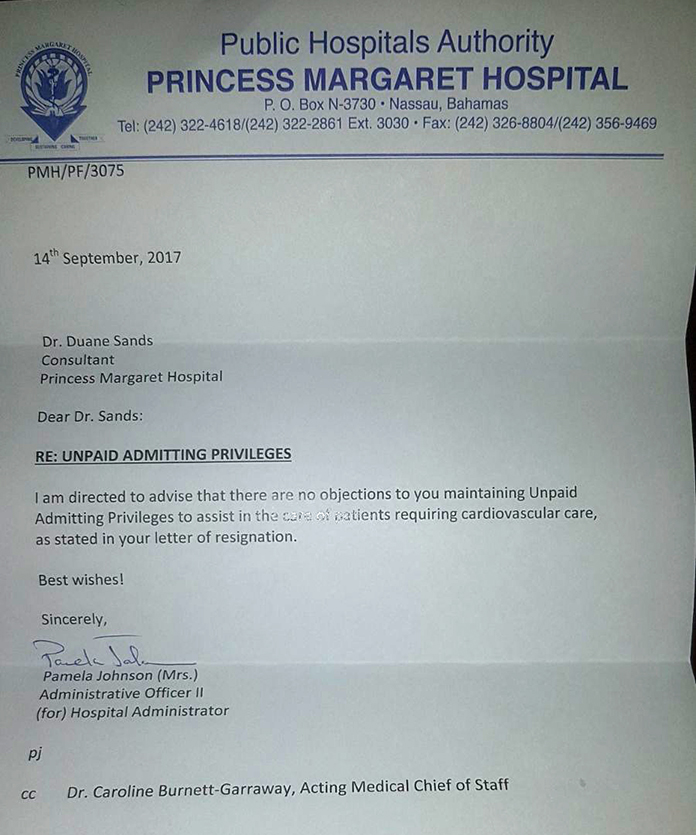 Nassau – Bahamas Press is once again turning our attention deep into the Cabinet of the Bahamas and we have some questions for Prime Minister Hon. Hubert Alexander Minnis.
Now, last year, back on September 14th, 2017 we at Bahamas Press circulated a letter that confirmed how Dr. Sands was granted "UNPAID Admitting Privileges" at PMH. Perhaps this was the first time in the history of the country where a sitting Cabinet Minister was allowed to work privately.
PM Minnis, after the BP story broke, told the media that he granted Dr. Sands permission to function outside the Cabinet; therefore, that was the end of the matter. But hold on.
We at BP have been doing some serious investigations where all kinda Panama Papers and "ting" been crossing our desk and, boy, this ain't ga look good for PM Minnis.
We have discovered that a second Cabinet Minister has been working while sitting in office and we never heard PM Minnis say he gave that Minister permission to work. So we have to ask the secret PM about this!
PM Minnis: did you give another Cabinet Minister the permission to work other than Duane Sands? YES OR NO?
We told the Bahamian people months ago that Hubert Minnis had lost control of his Cabinet Room. We warned that standards and protocols required to be upheld by the office of PM were not being done and we at BP are about to break a major national story.
We ga give the PM some time to consider our question and let him come clean to the Bahamian people first.
Did PM Minnis grant permission to a second Cabinet Minister to practice outside Cabinet?
We report yinner decide!