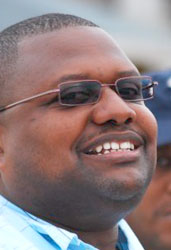 Nassau, Bahamas — BP can confirm a Director in the Department of Youth, has been placed on administrative leave until mid January 2011. Reports coming into our newsroom suggest the director may be interdicted and placed on half pay following investigations into the ministry.
Bahamas Press can confirm an investigation has been completed by police and additional papers from MOY, said to be associated with the investigations, is expected to conclude a case.
BP has been advised charges will be brought against the individual for misuse of funds placed in his care by parents for their kids to travel to Orlando for the Battle of the Bands.
You would remember BP first broke the story back in early October shortly after the incident occurred.
Sources in the OPM had confirmed Cabinet Secretary, Anita Bernard, had advised the ministry of youth officials to turn over all documents and open an investigation with police against on the public officer, who is alleged to have collected over $20,000 from parents before a botch trip to Florida.
We had reported in October how a trip was organized by the public officer to transport and housed some 40 youths to visit the "Battle of the Bands" event at Bethune-Cookman.
We were informed that while parents paid funds to the MOY official, many of the participants we left stranded at the airport and others were left without food and proper accommodations. It is further alleged that this official, known as the "Packer", packed up to 14 kids in one room.
One of the disgruntled parents, which argued that she paid the official the full amount for her son to travel on the tour, but was later telephoned by him [son] as he along with others were left to walk to the airport.
Another parent told BP the trip failed to supply the agreed boarding, transportation and food arrangements she had paid for her child.
Bahamas Press is monitoring this HIGHLY CLASSIFIED "SMUDGY" situation unfolding in the Ministry of Youth, and we are wondering, IF THE BIG PEOPLE COULD BE ALLEGEDLY SO CORRUPT AND CROOKED, WHAT DO THEY EXPECT THE YOUTHS?
WE NEED CHANGE!