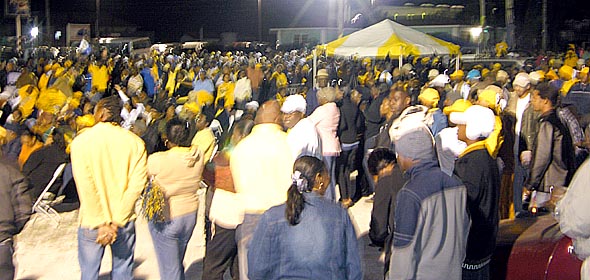 By Altec
Nassau, Bahamas — On February 16, Dr Rollins, the young, aspiring leader made a decision that sent shock waves of energy through the PLP while devastating tremors went through the FNM.
The young man that capitivated many around the country during the Elezebeth bye election did what most people knew he would do, join one of the major parties. To quote Dr Rollins,"…it is my strong conviction that it is neither wise, nor practical, to continue pursuing the development of a new political party in an environment of scarce resources and weak public demand; where prospects for success are long-term at best; and with so much at stake in our nation's immediate future…" That is the reality of 3rd parties in a nut shell. While full of zeal, they are almost empty on talent, infrastructure, finances and have little to no chance of winning.
Dr Rollins decision is a big deal for the PLP for 4 reasons. First off, positive momentum. This decision will strengthen the resolve of the troops on the ground, re-energize the party and give independents pause and cause them to reconsider the PLP.
Secondly, Dr Rollins has said publicly, that he had met privately with Mr Christie and Mr Ingraham and make no mistake, Dr Rollins as an aspiring politician, looks out for NUMERO UNO, and in this vein, Dr Rollins only had to ask himself one question; which party gives me the best chance of getting into the House of Assembly? Forget philosophy, this decision was based on the present political atmosphere and Dr Rollins sees the yellow tsunami coming and he choose to be apart of the wave, rather than get crush by it.
This is a very, very bad sign for the FNM! Everyone sees whats coming except them!
Thirdly, all those nay sayers who said the PLP cant attract young people has been silenced for now! Mr Christie just bagged a young man who will undoubtedly cause a stir among those in the PLP with leadership aspirations. Fred, Brave, Shane, Alfred Sears,and  Alfred Grey have to step up their game cause their is a young buck who wants the big chair. I just hope Dr Rollins stays far away from Obie because that man will betray God the Father, the Son, Holy Spirit, the Virgin Mary and Lady Pindling. I hope when he sees Obie, Dr Rollins is armed with some holy water and calls the fire engine, CID, FBI and the fellas who hiding Bin Laden cause we all know Obie will try and crease his shiny head right up under Dr Rollins. Run Dr Rollins. Run, when you see that shine coming towards you! You see how Pleasent mistakenly looked at the shine and she almost get lock up? Take note Doc, take note.
Fourthly, Dr Rollins decision puts pressure squarely on Branville McCartney. Mr McCartney now has to pick a side. I know it. You know it. He knows it. The country knows it. He can not delay this decision any longer!
Where Branville went wrong was he moved in a way where he wanted Mr Ingraham to notice him but went about it the wrong way. The problem for Branville was, when your new to the game, the old dogs dont take you serious and so Branville had to do some stuff to get Papa's attention. That was one of the reasons behind his little rally he had in his constituency several years ago. He was telling Papa he reach. He wanted to look like he was not afraid to take on Mr Ingraham and show that he was his own man. The problem was, Mr Ingraham dismissed him and so it was on to plan B and Branville resigned his cabinet position, as that was all he could do, short of leaving the party.
After all this, Mr Ingraham didnt budge, and now Mr McCartney is left hanging in the valley of decision. Now people are quietly questioning Branville's judgment and courage. We all hear the whispers, "if Branville is being stagnated why is he still in the party?" "If Mr Ingraham has no compassion, why stay under such a leader?" This is why when you move, you move decisively. You cant play soft with a bully. This is the lesson Branville has yet to learn.Now the perception of Branville wanting to have it both ways, looking INDECISIVE is starting to creep up on him. But what happened was he tried to play the game, and he ended up getting played by Mr Ingraham.
This is what happens when you take political advise from men who themselves have failed politically. Branville had morphed into Allengernon Allen Jr right before our eyes. When it was time to make a decision, they both walked to the edge, but didnt have the guts to cross over. When the iron is hot, you strike. You dont dance, play jumping jax, make potato bread and swithcha. But thats what Branville did. Dilly dally rather than making his decision when he had the entire country holding their breath. And now that so much time has passed, Branville's highly anticipated decision has lost some of its steam and now the feeling of "just make your decision already," is growing.
But the Lord smiled on Bulgy Jr toady and thanks to the decision by Dr Rollins, Bulgy Jr gets new life. Make no mistake, Mr Ingraham can not allow Bran to leave now. Oh no. Can you imagine if Branville leaves and joins a third party or the PLP now? That would be a devastating blow to Mr Ingraham's legacy and to the party, especially this close to a general election. Talk about a jolt to the PLP base. The FNM chances in the general election will be reduced to almost zero..
So now with this new life, courtesy of Dr Rollins, Bulgy Jr can make demands now that he couldnt make before. The only question is what will Branville ask for, cause right now he has Mr Ingraham nuts in a vise. Lightening has struck twice for Branville and whatever he does, he needs to do quickly, within the next few weeks.
So I think assurances will be made and Branville will stay put. Look for Mr Ingraham and Branville to appear unified in the very near future. Dont be surprise if a token sign is shown publicly to imply that all is well between them. Dont be surprise if Bran is brought back into the cabinet. Dont be surprised if Bran is made chairman of the party, deputy leader of the FNM or given some other position that will signal all is well. Dont be surprised to see Mr McCartney and Ingraham all buddy buddy and sharing gin and coke at the fish fry or Mr Ingraham and Bran having a jovial moment, coincidentally, when a tv camera is on them. I am telling you all now, some public signal will be displayed as the FNM's base needs something to jolt it.
With Bran back in the game, that sound you just heard was Tommy "The Reject" and "Work Permit" Shavargo's belly breaking down, running up and down FNM headquarters looking for Pepto Bismol, cold cerrasee and pink guava to ease their bowels. These guys are now on the outside looking in and know that Branville stock has risen once again. If Mr Ingraham is truly concerned about his party, then deals that were made in order to accommodate Mr Ingraham's return are now null and void. "The Reject" is no longer the hire apparent. "The Work Permit" is no longer deputy apparent because there is only one move that will suffice the FNM base and that is to see Branville sitting next to Mr Ingraham.
The next few months are going to be very, very interesting politically in the Bahamas. Will Branville and Papa make up? What will Branville ask for? Will Tommy "the Reject" quietly step aside? Will "Work Permit" Shavargo's work permit expire? Stay tuned!
A yellow wave is coming!
WE NEED CHANGE!