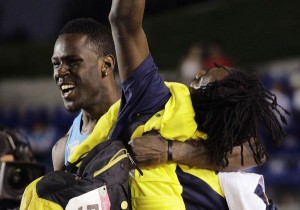 MEXICO – The Bahamas advanced to 10th spot in the medal count after picking up a gold medal in the men's high jump at the VI Pan American Games in Guadalajara Mexico yesterday evening.
Donald Thomas, the 2007 Osaka World Champion, 2007 World Athletics final winner and last years CAC and Commonwealth Games champion at the high jump pulled of the victory after equaling his seasons best jump of 2.32m.
After finishing near the bottom in the high jump finals at the Daegu World Championships, Thomas redeemed himself by wining the gold that eluded him four years ago in Rio De Janeiro where he won the silver medal at the Pan Am Games.
Ecaudors' Diego Ferri picked up the silver in a personal best jump of 2.30m while Cuba's Victor Maya settled for the bronze in a leap of 2.26m.
In other track and field action, the Bahamas was able to advance both relay squads into today's final though the team makeups were different from what would have been expected.
In the first heat of the men's 4x100m relay, the team of Chris Brown, Jamial Rolle, Rodney Green and Wesley Neymour finished fourth in 40.05s. Three time national 100m champion adrian Griffith was not in that race due to injury and 200m sprinter Michael Matthieu was preparing for his 200m final as the last event of the night.
Their time was good enough to qualify as the seventh fastest, they will run out of lane two in tonights final.
An hour later, our men's 4x400m team of Neymour, Brown, Rolle and bronze medalist Ramon Miller also finished fourth in their heat in a time of 3.09.68s. They also will line up in lane two for that final.
Also competing in finals yesterday was veteran javelin thrower Lavern Eve. Her best throw of 50.82m and seasons best was good enough for eight place. USA's Alicia Deshasier won the gold in 58.01m.
Then in the men's 200m, Mathieu came up short after finishing fourth in a time of 20.62 second ran into a headwind of 1.0mps. Cuba's Roberto Skyers won in 20.37s followed by Jamaican Lensford Spence in 20.38s. Brazil's Bruno de Barros got the bronze in 20.45s.
Mathieu will have a chance to pick up two medals when he runs in both 4×100 and 4x400m relay finals. The former will be ran at 7pm local time while the latter will be ran 50 minutes later.
In medal count for track and field, The Bahamas is currently in 10th spots with a gold from Thomas and a bronze from Miller. Cuba leads the table with 20 medals.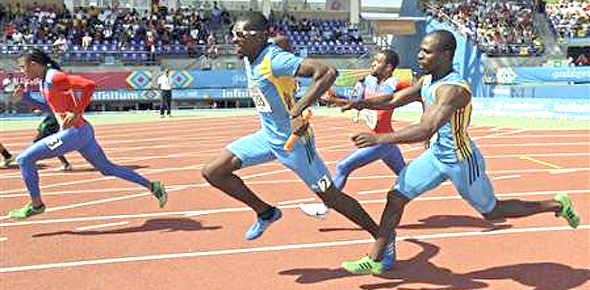 —–
AD ON BAHAMASPRESS.com