Homeless man thankful to Urban Renewal for a roof over his head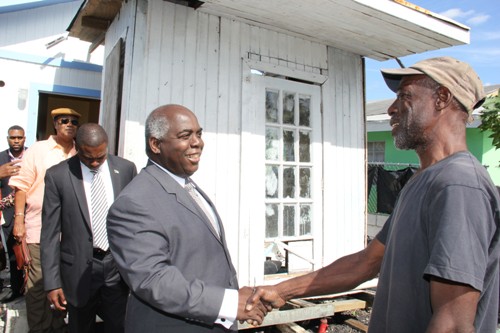 Christie Cabinet works tirelessly to fulfill the dream of Pindling to wipe away the tears from every eye…
Nassau, The Bahamas – Ephraim Lyons is one of many residents who are thankful for the Government's Small Home Repairs programme. Three years ago a fire destroyed his home leaving him to live outdoors between an old vehicle and a wooden shack.
"I lost all my life savings, musical instruments and things I valued more than the house. I lost everything. I worked so hard and it just went away," he said.
The skilled worker/entertainer viewed his previous living conditions as "survival". Hopeful and determined to "get back on his feet" he knew it would be a financial challenge to start again. However, he remained positive knowing that there was a light at the end of the tunnel.
A member of Voice of the Watchman Evangelistic Outreach, he relied on his faith to take him through his ordeal. "I knew it was going to be alright. I know the way I worship. There are people who, when they worship, seem to be watching a show. I don't worship like that. I'm the crazy worshipper. This blessing here not many people could not have gotten this. I really believe now that the blessing is in the praise."
Lost for words as to his feelings about his new home on Strachan's Corner, Lyons said, "I can't explain it right now. I don't feel it yet. I'm in shock. It's beyond my comprehension."
It's been two weeks since Lyons moved into his quaint, one-bedroom home. "I'm enjoying it. It feels so good. Urban Renewal is the best thing that ever happened to The Bahamas," he said.
As to his future plans Lyons said he'll continue to write songs and fulfil his dream to become a successful musician.
Lyons' home is just one of thousands in "urban" areas that the Government has executed contracts totaling approximately $3 million to repair. The Urban Renewal Commission headed by co-chairs Algernon Allen and Cynthia "Mother" Pratt launched the project in November last year.
Mr. Allen described the programme as the most "significant" and "substantial" Small Home Repair Programme in the history of The Bahamas, which will result in the transformation of communities and uplifting not only of the homes, but of the spirits of residents.