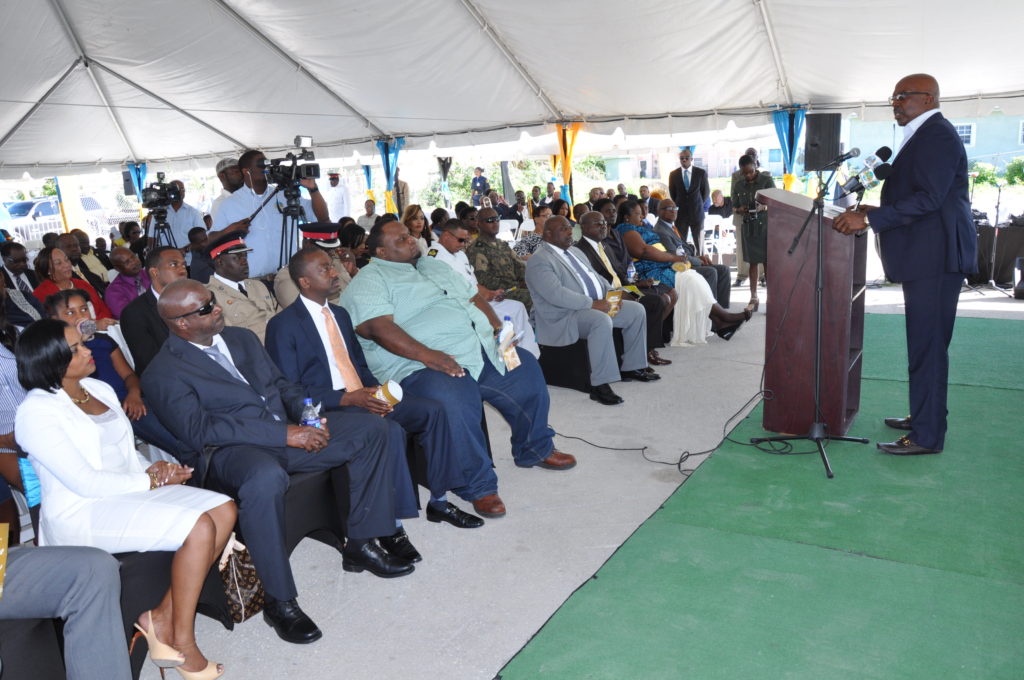 EIGHT MILE ROCK, Grand Bahama – Public-private partnerships such as the one between the government and Triple P Investments Ltd., complement and expand access services offered by government, said Deputy Prime Minister and Minister of Works and Urban Development, the Hon. Philip Davis, during the groundbreaking ceremony for the Administrative Complex in Pinedale, Eight Mile Rock on Thursday, December 22, 2016.
Also present were Prime Minister of The Bahamas and Minister of Finance, the Rt. Hon. Perry G. Christie who also gave the keynote address; Minister of Tourism and Member of Parliament for West Grand Bahama and Bimini, the Hon. Obie Wilchcombe; Minister of Transport and Aviation, the Hon. Glenys Hanna-Martin; Minister of Labour and National Insurance, the Hon. D. Shane Gibson; and Minister for Grand Bahama, the Hon. Dr. Michael Darville, along with Senator Julian Russell, other government officials and the executive team of Triple P Investments Limited.
Minister Davis said that following the passing of Hurricane Matthew, residents experienced devastation, and people are coming out of it more focused, determined and more resilient.
"Two weeks ago," he said, "I had occasion to speak with international industry experts concerning the benefits of public-private partnerships (PPPs) towards achieving the massive investment to transform The Bahamas through infrastructure.
"The world over, investment in infrastructure is recognized as that powerful engine for economic and social development. That investment cannot come from Government alone if we are to meet real progress."
The Deputy Prime Minister added that "History has acknowledged that no country has managed to develop much beyond a subsistence economy without paying attention to this requirement. PPPs, therefore, give rise to the creation of such improved circumstances.
"Some PPPs are time-specific and serve a particular purpose while other move along as perpetual arrangements."
Giving examples of this, the Minister of Works used Urban Renewal as a community-based perspective. There are also churches and private individuals who have built primary and secondary schools, the National Insurance Board and private individuals have built health-care clinics and NGOs, civic groups such as Rotary and Kiwanis and other private entities have made contributions to welfare of those less fortunate.
Larger partnerships, he noted, are the Arawak Container Port, Nassau Airport Development Company (NAD), and Bahamas Power and Light Company (BPL). These investments, he said, all complement and expand access to the services offered by the Government of The Bahamas.
"All of these are creatures of innovation. They broaden the stakes of citizenship by fostering a sense of responsibility for the growth and development of a stronger Bahamas."
Also bringing remarks during the ceremony were Prime Minister Christie; Minister Wilchcombe; Minister Hanna-Martin; Minister Gibson; and Minister Darville gave the welcome remarks.