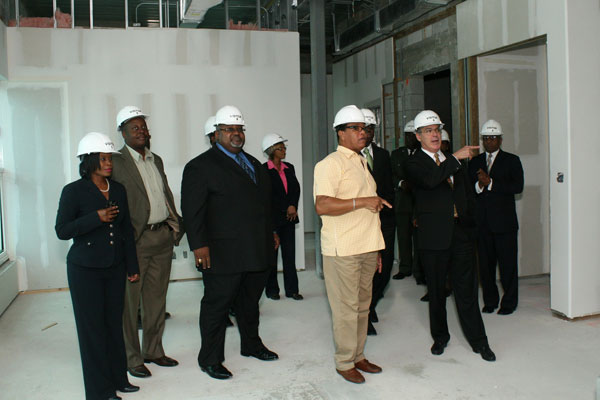 FREEPORT, The Bahamas –  Deputy Prime Minister and Minister of Foreign Affairs, the Honourable T. Brent Symonette was kept quite busy on Grand Bahama this past Friday and most of Saturday morning before returning to New Providence
The Deputy Prime Minister came to Grand Bahama Friday morning mainly to participate in a swearing-in ceremony for new citizens and to have an Immigration Board meeting.
However, his less than thirty-six hour stay saw him also meeting with 13 executives from several major companies, including Grand Bahama Power, G.B. Ship Yard, Pharmachem, and Our Lucaya Resort.
He also took time out to meet with the two top executives from the Professional Engineers Board as well as addressing participants attending the International Business and Finance Summit held at the Our Lucaya Resort January 21 – 23.
During a press conference at the Office of the Prime Minister on Friday evening, Mr. Symonette said he was pleased with his visit to Grand Bahama, and was happy to welcome 16 new Bahamian citizens, one of whom was born in the Turks and Caicos Islands and has been living in The Bahamas for some 56 years.
The Foreign Affairs Minister said that they are trying to clear up the back log of persons applying for citizenship and that he tries to come to Grand Bahama on a regular basis to do the swearing-in.
He said there are a number of persons born in The Bahamas, lived here all their lives, went through the school system, and "they obviously have a sense of frustration that they don't have citizenship.
"They feel they are Bahamian, they know our symbols; they are a part of our community.  So for those persons who have been here for a long time and meet the requirements, we are trying to swear them in so they become citizens," he stated.
He said the department doesn't have a handle on the backlog of citizenship applications but is working them through as quickly as possible.
With respect to the Immigration Board, the Deputy Prime Minister said it meets every Monday in Nassau and that he tries to meet with the Board in Grand Bahama once a month.
He noted, however, that occasionally the Board in Grand Bahama would fax an agenda down to Nassau for approval, particularly the urgent ones.
He said part of the problem regarding timely granting of work permits is largely the Immigration Department is still manual but once it comes fully into the electronic system, there should be a turnaround.
Mr. Symonette said he recently toured the new Government Complex, under construction on Mall Drive, and that the contractor, Fletcher McIntosh, is "on time."  The Department of Immigration is looking forward to relocating  from its current location.
"If any of you have toured the back offices of Immigration, I really admire those persons who work under those conditions, so we hope in August/September to be in the new offices and that should give them a new environment to work in," he said.
Focusing on unemployment, the Minister took note of the mindset of some Bahamians with respect to certain jobs. He said the number of foreign persons working at Sanitation Services and the few Bahamians taking advantage of the opportunities to be maid and gardeners.
The Minister also advised that his Ministry has started a new electronic work permit, a companion project with the Passport Office.
He said the card will be computer generated with all the information regarding the holder, eliminating much of the questioning process when it's time for renewal. He said this will apply for work visa, permanent residents and more. This process has already started in Nassau.
The Foreign Affairs Minister added that he also took a look at the Passport Office, which will be re-located to the new building when completed.
He said that during 2010 the Department in Grand Bahama issued some 8,800 passports. He feels that they are doing well and have "ironed out most of the kinks."