BP gets word why Nabb resigned and report of the failures coming out of St. Cecilia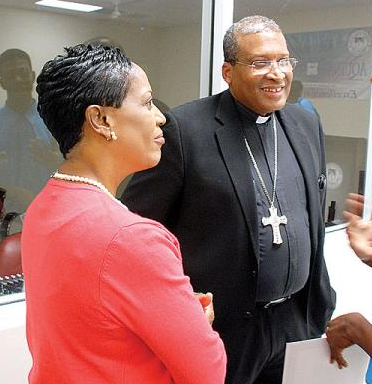 Nassau, Bahamas — Police were called into Xavier's Lower School yesterday following up a report that some incident was taking place. Nothing, however, was reported to have occurred but BP was live on campus following up the developments and drama at the school.
And, boy, we at Bahamas Press have more to tell yinner!
Firstly, we know the school's principal was summoned to the Catholic Board of Education for a meeting Thursday to discuss the developments now unfolding between a parent and a guidance counselor.
Some at the Board are becoming quickly concerned with the reports coming out of the school and believe that new measures must now be instituted before all is lost.
BP can tell you great pressure is now on Claudette Rolle, the Director, to get to the bottom of several vexatious issues.
We can tell you the bully parent, a mother, who was said to have acted out of line was called in to diffuse the situation. The jungaliss behaved terrible and ignited a jungaliss response from the guidance counselor – who we understand is a big fan of Bahamas Press – but is now hot mad with 'we' following these breaking developments.
The guidance counselor is said to be walking around the campus like a dog that has lost her tail – as she now feels dat BP chopped it off! She should do what all good and decent Catholics do: grab the rosary and pray like a good Christian at Lent!
While dropping in on that meeting, Bahamas Press now has more information about the resignation of the principal on Grand Bahama..
We can tell you Robert Nabb from Mary Star Catholic School on Grand Bahama abruptly resigned his job because he was tired of how he was being treated by the present controversial Director of the Catholic School Board. It is being widely discussed that Mr. Nabb can't take no more [Expletive]! Some educators described the Board's Director's behaviour as '[blank] on wheels'! We ga leave yinner with that thought for English classes!
Meanwhile back a Xavier's Lower School, since BP's breaking report which shocked the nation, it is said that there were lots of closed door meetings, while the phone rang off da hook with some parents, who were frustrated, asking "what kind of slack baby dollhouse y'all running roun' dere?"
And get this: while BP was peeping files and reading about the performances of educators with the schools, we were shocked by the rate of failure coming out of a Catholic school over the hill regarding students seeking entrance into SAC!
As the plot thickens – it is recorded that only 19 students from St. Cecilia Primary passed for entrance into St. Augustine's College in the east. Get this – some 60 students from St. Cecilia sat the entrance exams.
WHAT IN THE HELL IS DIS?
And while Churches are being constructed, the greatest mission of the Church –"EDUCATION" – is declining.
All we say is this – Someone trying to change the focus and mission of the Church!
We report yinner decide!