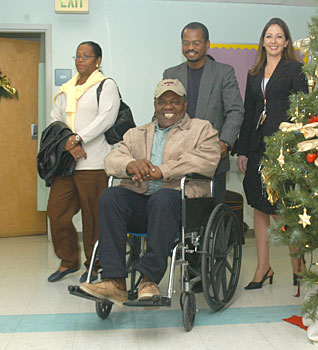 <<<Here is Dr. Brown wheeling out of Doctor's Hospital an ailing Hubert Ingraham following a heart proceedure before returning to office as PM.
Bahamas Press is very concerned that in Dr. Conville Brown's intractable selfishness and greed, that he is setting a bad precedent that can open the flood gates for all and sundry foreigners to come into the Bahamas to be gainfully employed to do jobs that Bahamians can do and have been doing.
Here is what Bahamas Press is talking about; we understand that Dr. Brown was seeking to bring in three "medical" oncologists to work at his cancer centre on Collins Avenue. Bahamas Press puts emphasis on the word medical because as a skill, Dr. Brown deals with radiation oncology specifically.
Likewise, statistics would reflect that one oncologist should be for every 75,000 persons, which means that 5 oncologists can aptly serve the Bahamas. Certainly we have five oncologists in the Bahamas. So why does Dr. Brown need to seek foreigners to do the job? And why does he need medical oncologists, when it is really radiation oncologists that he specializes in?
Bahamas Press believes that Dr. Brown is setting a scary precedent, where other business persons, especially doctors, will start bringing in foreigners and expand the services available, thus eliminating the Bahamians that can do the job that businesses are "licensed" to do.
Dr. Brown has had troubles from the former PLP Government and was not able to get all that he wanted in approvals for this same cancer center. And if Bahamas Press recalls properly, this same agenda was one of those things not approved.