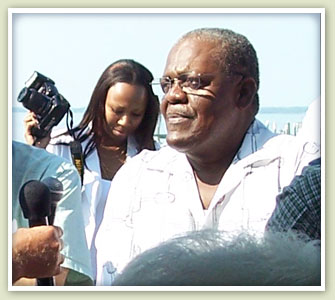 <<< Turner holding her camera behind Prime Minister Hubert Ingraham. (file photo)
Click Here to listen to a local Newscast…

Bahamas Information Services (BIS) today attempted to once again decieve members of the public in the Bahamas denying that photos taken of PLP former Minister of Tourism Obie Wilchcombe outside a freeport police station involved Sharon Turner. However a contact to Bahamas Press confirmed that this is UNTRUE and supplied us with the evidence!
Bahamas Press is now posession of that communication Turner deliever to members of the media, where the photo appeared the following morning (Saturday) on the front pages of The Nassau Guardan. The source information confirms that the email was sent to reporters on FRIDAY, JANUARY 23, 2009 at 9:04PM. The photos/message was forwarded by: SHARON TURNER under the email headline <sharondturner@gmail.com>.
The email confirms the transfer of the photos involving Wilchcombe and opens a can of worms suggesting that Hubert Ingraham and his FNM government has some involvement in a smear campaign against members of the PLP now caught up in this Travoltas extortion investigation.
Turner is a Deputy Director of BIS and is the official webmaster of the Free National Movement. Turner is also a photographer who frequently travels with Prime Minister Hubert Ingraham with her camera clicking skills following the leader of the nation at international events.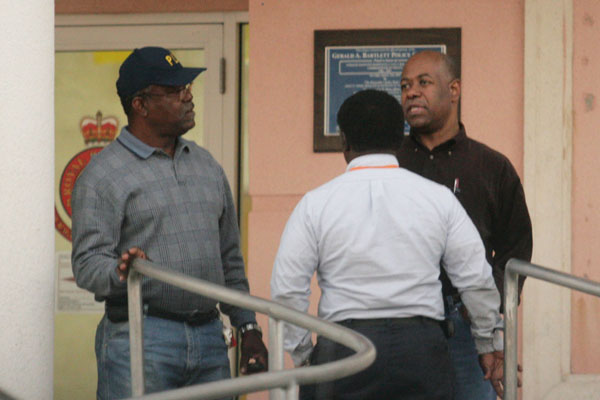 Photo of PLP MP for West End and Bimini Obie Wilchcombe published in the local and international media. The photographs were circulated by deputy director of Bahamas Information Services and webmaster of the FNM Sharon Turner. BIS today denied Turner's involvment in shooting the photos but equally confirmed that the photographer wanted no attribution to the photographs. HOW DID BIS KNOW THAT? Hmmmmmmmm!