BP SUNDAY SPECIALS ARE BACK AS WE PROBE THIS MUDDY RELATIONSHIP BETWEEN DUANE SANDS AND BARBARA HANNA!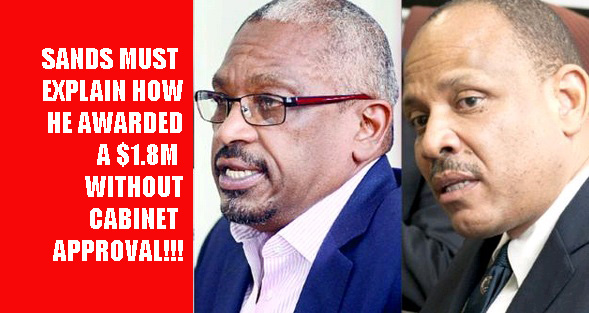 Nassau – This past week was hot for Duane Sands and, even days after shocking testimony, he has not resigned.
We at BP do not find this shocking at all. After all, crimes, according to the Minister for Education, had occurred with the OBAN Scandal and no one has yet resigned in that matter either.
Criminality is no strange thing to the Minnis Government. And what unfolded inside the Magistrate's Court this past week is evidence of what can only be described as Corrupt, Complicit, and Criminal behavior. THAT:
1) We heard how a Cabinet Minister Duane Sands evaded the procedural exercises in the awarding of a $1.8 million contract to a friend.
2) Call Logs presented by the Crown [The Police] showed and proved that Duane Sands called the virtual complainant some 15 times after he became a Minister.
3) We know the son of Barbara Hanna worked with Duane Sands' Elizabeth election campaign team and voted in that constituency, even though he did not formally reside in the Elizabeth constituency [And that is a story for another day].
4) We heard how Duane Sands never invited the PHA Board to give its final approval and additionally he never invited the Cabinet of the Bahamas, which has Executive Authority, to vet contracts over the amounts of $50,000. Why were the Cabinet and PHA not invited to examine Barbara Hanna's contract? Was it because she did not meet the required tax compliance?
5) It should also be noted that the Attorney General's Office, which cautioned on the awarding of the contract, noted that in the file sent to its office from Duane Sands Ministry, the fact was never included that indeed there was a pending BRIBERY CASE involving this same company!
6) We also know that Magic Touch was not fully compliant with all its taxes due to the Government of the Bahamas during the same time Duane Sands awarded Magic Touch the contract.
7) We also know that Magic Touch was not the lowest bidder.
8) PHA Legal Officer also confirmed how the matter was never brought to the board, and the board, having concerns, initiated an investigation into the awarding of the contract. The files of those investigatory facts – LIKE OBAN FILES – have vanished from the archives of the PHA. UNBELIEVABLE!
Something is seriously wrong with this chain of events and Duane Sands must tender his resignation. And should he fails to do so, then the Prime Minister, who claims he has come to political office to fight CORRUPTION, must now exercise the weight of his powers and commit the ax on Duane Sands. A failure to execute the same will mean that Prime Minister Hubert Alexander Minnis is complicit with the corrupt behavour of his Minister of Health Duane Sands and he, too, must resign or we da PEOPLE WILL FIRE DEM!
We report yinner decide!