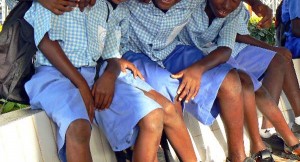 Abaco Children Abused!
Abaco, Bahamas – The Bahamas Education Department continues to shop abusive teachers from school to school and today officials have their hands full once again; this time in Abaco.
Last year parents of students attending the Central Abaco Primary School demanded action from DOE minister, Desmond Bannister, amid a spree of unexplained beatings that were severely executed by the hands of a foreign Guyanese teacher.
 At the time BP was hesitant to report anything on the stories because the Ministry was on a lock-down mode with regard to disclosure of details. However, BP quietly continued to follow the story very closely as our investigative team was dispatched to Abaco and Grand Bahama for a follow-up on these incidents.
Further inquiry into the matter revealed that this same teacher had to be removed from the Sandy Point All Age School by the same DEO for physically abusing the children a year earlier. We can report documented reports after documented report were transcribed, but no decisive action was ever taken. But wait, it gets deeper and a whole lot more salty as reports suggest.
 Given the fact that a report of this magnitude could have been brought to the executive branch in the Ministry of Education, we at least would have expected that the children's interest and welfare would have been given some consideration. However, the DEO'S way of resolving the matter was simply to move the abusive FOREIGN teacher to another school with a promotion as principal; "Will Mudda take Sick!"
 BP can confirm that DEO, Eleanor Black, breached the laws legislated by a sovereign Parliament and appointed, Simone Pinder, [a Guyanese National] as principal at the Crossing Rocks All Age School.
In a stroke of coincidence, it so happens that this time around the abusive teacher/principal victimized the granddaughter of a former principal of the same school and the injured child had to be temporarily moved to the Sandy Point All Age School. The small and quaint community of Crossing Rocks is fuming as the flames for a riot is being fanned due to the hands of a corrupt, unjust secret society in the Ministry of Education.
BP dedicates this song to the abused children of Abaco.