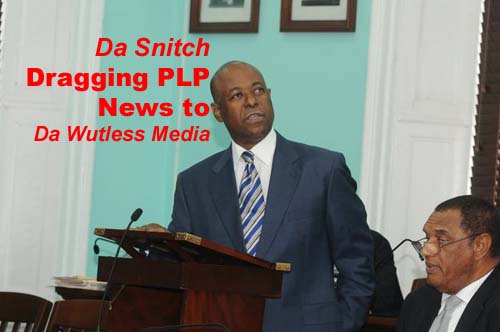 PLP fumbling with by-election ball says constituent. Photo of Obie Wilchcombe and PLP leader Perry Christie.
Dear Editor,
I have been watching the situation on the ground in Elizabeth of which I am a resident and registered to vote. The PLP started out of the gates very quickly but has since faltered. My neighbours want to know why was the rally cancelled and the ads stopped on the radio. The rally could have been held and donations collected on behalf of the people of Haiti.
Ingraham is now about to launch a massive turnout and vote buying in Elizabeth. The trailers are already on the ground and the money is about to flow while the PLP and its dumb think tank dither and ponder. The PLP has lost valuable time. I am being told that there are a whole bunch of losers led by Obie 'Snitch' Wilchombe undermining the hard work of Brave Davis to make him look bad. The PLP seems to be prepared to lose to make Brave look bad. My question is, who is running the PLP? Where is PC?.
I predict that if Brave does not take control of the party, Christie, Obie, Joe Curry and the other so called experts in the party headquarters will cause the party to lose. I suggest that Mr. Ryan Pinder gets as far a way as possible from the people PC sent to manage him. They want your Daddy's money and nothing else. I will no longer support the PLP, I have advised the eight voters in my house that if we don't see Brave leading the charge, we are going with Hubert and Dr. Sands wholesale.
G. Thompson
Ghana Circle
Commonwealth Blvd.