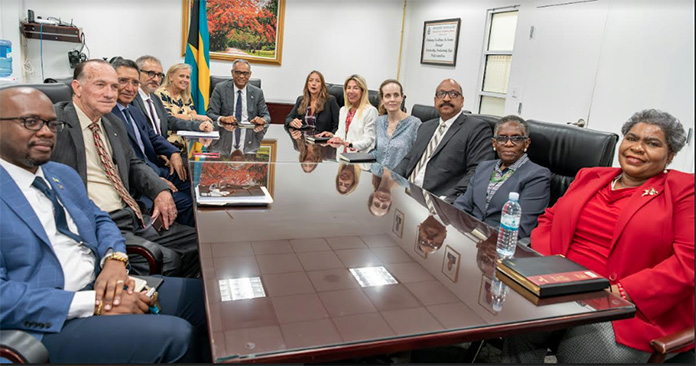 NASSAU, The Bahamas — During a courtesy call, Monday, June 5, 2023 at the Ministry of Health and Wellness the Hon. Michael Darville, Minister of Health and Wellness received European Union Ambassador to The Bahamas Her Excellency Marianne Van Steen; IDB Country Representative Daniela Carrera Marquis; IDB Senior Health Specialist Ricardo Perez-Cuevas; and other IDB and EU representatives.
Along with officials from the Ministry of Health and Wellness, the team will visit public health clinics in Abaco this week to inspect the progress of works being carried out under an EU grant to support the strengthening of the public healthcare system.
The Government of The Bahamas and IDB signed an EU supplementary non-reimbursable investment financing project specific grant agreement in April 2023. The grant from the EU provides an additional EURO 5.2 million to the ongoing work of the all-encompassing $40 million-dollar IDB investment loan Programme to Support the Health System Strengthening of The Bahamas, which includes the construction of nine new health centers and retrofitting of nine health centers in 11 Family Islands, the remodeling of the national reference laboratory, and introducing digital health technology. The additional resources provided by the EU grant are expected to boost the activities of the loan programme significantly during its four-year execution period.
The EU grant will provide co-financing for infrastructure and equipment investments in the primary health care clinics. The grant covers the construction of a new clinic in Moore's Island, Abaco, and the renovation of the Abaco Health Centre in Marsh Harbour and the Fox Town Community Clinic. The grant also covers the construction of a new clinic in Black Point, Exuma and the modification of the MatthewTown Clinic in Inagua.
On the sidelines, Minister Darville said his Ministry is pleased to be working very closely with the bank and the grant funding that will go a long way.
"This is all a part of what we are doing with the IDB to upgrade primary health care infrastructure and service delivery mechanisms throughout the Family Islands," he said.
In addition to refurbishing and building health care centres, Ambassador Van Steen said it's about providing medical equipment, educating people and ensuring that health care reaches as many people as possible. "It's a modest contribution, but an important one. We hope it's going to help many people who need it."
Mrs. Carrera Marquis said, "We make sure that we support the government into doing the activities that have been targeted throughout the grant and make sure that throughout the four years of execution we achieve the objectives that were defined and agreed to between the EU, the IDB and the Government of The Bahamas."