THIS MOCKERY AND ABUSE OF OUR SYSTEM MUST STOP!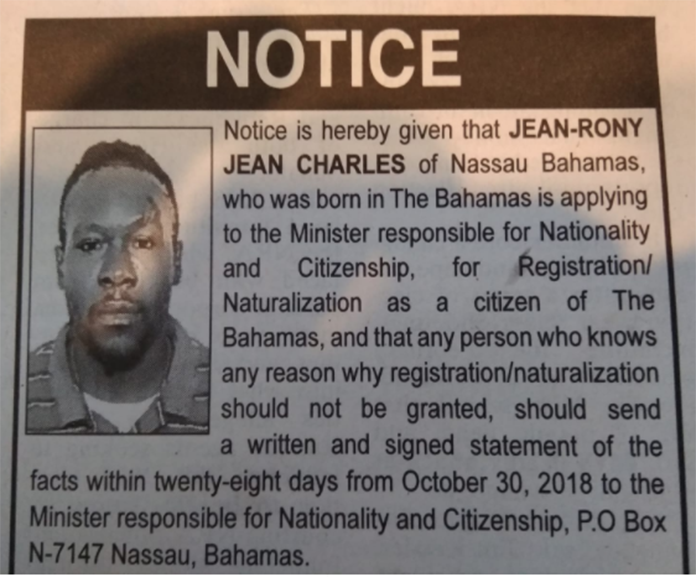 Nassau – Every Bahamian should block the citizenship application now being advanced inside the Government Agency for Jean-Rony Jean Charles.
And it should be blocked based on the fact that Jean-Rony Jean Charles, who is not a Bahamian an is being used by Fred Smith, drags the good name of the Bahamas into the mud and makes a mockery of our system!
Just last month the Court of Appeals defeated Jean-Rony Jean Charles and Fred Smith after a ruling by the Supreme Court suggested that he could operate in the country unmolested.
Carl Bethel, who we know is indeed now UNFIT to serve as Attorney General, has allowed Jean-Rony Jean Charles to apply for CITIZENSHIP! What is this? Charles has no records in the Bahamas and never applied at age 18 for status and here's why.
One of the names used by him is a deceased brother!
Secondly, another of the names used by him is the name used by a convicted man who served long years in Fox Hill Prison! WHO THEN IS Jean Rony Jean Charles?
How did Jean-Rony Jean Charles get either name is indeed incredible! This is a national disgrace, an embarrassment and an affront to the procedures of the GREAT COMMONWEALTH OF THE BAHAMAS!
No one can be expected to be furnished with the honour of having Bahamian citizenship, including the rights to vote, work, collect benefits and pensions, while at the same time making a spectacle of the system! WHY IS Jean-Rony Jean Charles still in the Bahamas is the big question? Why is the Minnis-led government working this kind of nonsense to continue to the embarrassment of every Bahamian?!
This mockery of our system MUST STOP AND END NOW!
Carl Bethel is UNFIT TO BE ATTORNEY GENERAL and CANNOT PROTECT THE BAHAMAS FOR AND ON BEHALF OF BAHAMIANS!
We report yinner decide!