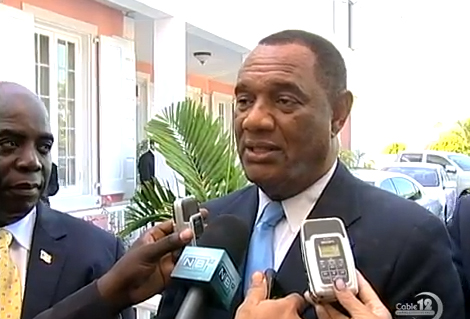 By Eric Rose
Bahamas Information Services
GEORGETOWN, Exuma, The Bahamas — Prime Minister and Minister of Finance the Rt. Hon. Perry Christie said, at the 9th Annual Exuma Business Outlook, that Exuma's tourism product has continued to diversify, attracting a wider cross-section of long-term investors and the travelling public.
"Over the course of the last several years, over 200 second homes, which have been constructed on Great Exuma, Little Exuma and the Cays, are now operated as vacation rentals, which provide opportunity for even greater contributions to this Island's economy in such areas as construction, real estate and furniture and retail sales, home insurance and maintenance, housekeeping, landscaping, property management, farming, fisheries, and handicraft," Prime Minister Christie said at the event held at Sandals Emerald Bay Resort, on October 22, 2015.
Prime Minister Christie noted that, according to the Department of Statistics, during the same time period the year before, Exuma's tourism economy had recorded a 15 percent growth in arrivals over 2013, with five percent growth experienced in hotel occupancies and 15 percent in rooms' revenue.
"I am pleased to see that Exuma continues to do well, having recorded a 16 percent increase in air and sea arrivals this month over last year," he added. "Exuma's hotels also continue to receive positive reviews and are highly rated on TripAdvisor, the pre-eminent online source of consumer reviews for the hospitality industry."
However, Prime Minister Christie said, as with all Family Islands, stronger gains in economic growth will only be realized when there is "critical mass" of commercial enterprises offering art, entertainment, retail shopping, sports, restaurants, tours, transportation and other activities, which cater year-round to the 7,000 permanent residents and 35,000 transient visitors annually to Exuma's shores.
"Although the opportunity for consumption is high, and the level of demand adequate to stimulate Exuma's economy, the quantum of spend is not being maximized — simply because of the absence of a critical mass of commercial enterprises and niche activities," he stated. "We realize that local business development has to follow resort and hotel development in these islands to take full advantage of the investment – both public and private; otherwise, the net economic gains to the destination are not fully realized within the larger context of GDP growth."
Prime Minister Christie said that these initiatives must be private sector-led, and especially by Exumians, with much more focus by its local Chambers of Commerce, the Government and financial institutions given to the development of "creative financial instruments" to provide access to capital, workshops for entrepreneurs, promotion of opportunities for local business development and linkages with educational institutions to facilitate training opportunities.
"The Government does and will, of course, continue its efforts to provide stimulus to private sector initiatives within the context of legislation for small business development which includes provisions under the Family Islands Development Encouragement Act and the Hotels Encouragement Act of concessionary arrangements for both Bahamian and foreign investors," Prime Minister Christie said.
"In this regard, the Government will encourage Exumian investors — like Mr. Allan Smith, the Principal of Plainbay Enterprises at Black Point — to move forward with their projects in manageable phases, with a view to having Bahamians sharing more fully in the tourism economic pie, as owners of such businesses."