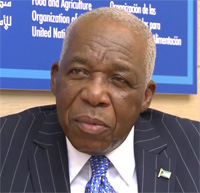 NASSAU, The Bahamas – The development of a Country Programming Framework (CPF) that will assist with the eradication of poverty and hunger in The Bahamas was the focus of a workshop held Wednesday, July 22 at the Bahamas Agricultural Industrial Corporation, Old Trail Road.
The one-day workshop, organized by the Food and Agriculture Organization (FAO) of the United Nations, engaged representatives of government agencies and various stakeholders.
In his remarks at the opening ceremony, Bahamas FAO Ambassador Godfrey Eneas said, "in our country we are faced with a large segment of poverty in our urban centres. If we are successful in addressing poverty, hunger and malnutrition, a number of social ills plaguing our country will be drastically reduced.
"When one talks to store owners like Junior Roberts of Super Value, his biggest operating cost one may think is probably labour or utilities. No, it's pilferage. People are hungry so they steal food."
"In The Bahamas, poverty, like most places is the basis of hunger. In 2001, there were 28,000 Bahamians living in a state of poverty, which translates into an income of $5,000 per annum or $13 per day. Today, according to the Ministry of Social Services, there are 40,000 Bahamians living at the poverty level. Hands for Hunger provides 100,000 meals per year for hungry Bahamians," said Mr. Eneas.
The FAO workshop provided an overview of the Community of Latin American and Caribbean States (CELAC) — and within this region, the goals of the FAO and the country-specific plans of action toward achieving food and economic security.
The goals of FAO are:
The eradication of hunger, food insecurity and malnutrition;
The elimination of poverty and the driving forward of economic and social progress for all, and improvement in rural livelihoods; and
The sustainable management and utilization of natural resources, including land, water, air, climate and genetic resources for the benefit of present and future generations.
The Bahamas, as a Member State of the FAO, has endorsed and continues to contribute to the achievement of these goals. The strategy for achieving these goals is through a global framework of the five Strategic Objectives to which the CPFs are aligned.
The CPF is the mechanism by which the FAO works to plan and implement country-specific actions that contribute to the attainment of these goals.
The 5 Strategic Objectives of FAO are to:
1. Contribute to the eradication of hunger, food insecurity and malnutrition;
2. Increase and improve provision of goods and services from agriculture, forestry and fisheries in a sustainable manner;
3. Reduce rural poverty;
4. Enable more inclusive and efficient agricultural and food systems at local, national and international levels;
5. Increase the resilience of livelihoods to threats and crises.
According to a release: "CELAC is committed to ensuring Food and Nutrition Security (FNS) through a strategy of eradication of hunger and poverty in its Member States. Political will has been directed towards generating effective mechanisms to achieve this goal by the year 2025 in a region that has shown significant progress in this field, with the implementation of sectoral policies that promote the well-being of populations, increase resilience and promote best practices."
The objectives of the CELAC Plan are to contribute to "reaching concrete results that will generate significant improvements in the quality of life of the inhabitants of the region, aimed at the eradication of poverty, especially extreme poverty, to guarantee food security and nutrition, with a gender approach and respecting the diversity of eating habits, to face the challenges of food security and nutrition and move towards the eradication of hunger and the complete fulfillment of the Right to Food, especially for all vulnerable sectors."
The CELAC FNS Plan is structured into pillars, lines of action and proposed measures.
Pillar 1: Coordinated food security strategies through the development and management of national and regional public policies to meet the challenges of food security (availability, access, utilization and stability), with a gender perspective and incorporating a human rights approach, in particular the Human Right to Food.
·   Line of Action 1: Strengthening institutional framework for Food Security and Nutrition (FSN)
·  Line of Action 2: Facilitating Intraregional Food Trade
·  Line of Action 3: Food Waste and Losses
·   Line of Action 4: Food Supply Programme
Pillar 2: Timely and sustainable access to safe, adequate, sufficient, nutritious and culturally relevant food for all people, especially the most vulnerable, in order to develop and fully maintain their physical and mental faculties.
· Line of Action 1: Conditional Transfer Programs (CTP)
· Line of Action 2: Labour market
·  Line of Action 3: Family Farming
Pillar 3: Nutrition wellbeing and assurance of nutrients for all vulnerable groups, respecting the diversity of eating habits.
·  Line of Action 1: School Feeding Programmes
·  Line of Action 2: Nutritional wellbeing
Pillar 4: Stable production and timely attention to socio-natural disasters likely to affect food availability
·   Line of Action 1: Emergencies and natural disasters
The CPF will be no more than 20 pages – including a brief introduction, context and description of the implementation and a monitoring and reporting arrangement. It is expected that the CPF will be completed by September 2015. The duration period of the CPF is normally 3 to 5 years.