FBI investigation of Baha Mar likely!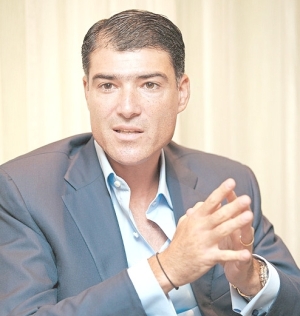 by: Fred Sturrup, FN General Manager/Managing Editor
A team from the Federal Bureau of Investigation (FBI) is presently in the country and based in New Providence, The Freeport News has been informed.
According to a source, " the FBI is here and this is serious business." The Freeport News' source said that the FBI is interested in matters directly relating to China Construction America and Baha Mar Chief Executive Officer Sarkis Izmirlian.
The FBI has jurisdiction, this newspaper was told, because China America is associated with China State Construction, the major contractor at Baha Mar. Izmirlian, it is understood, has a number of companies registered in the United States.
The FBI is a law enforcement arm of the United States, concerned primarily with the gathering of intelligence and providing security services within the country. However, from time to time, when incidents relate to the United States, individuals or business entities within that country, missions are carried on outside the borders.
Baha Mar has filed for Chapter 11 bankruptcy in the United States in the state of Delaware. Billions of dollars are involved in the Baha Mar project. The source said there is a high level of focus on installment payments made to the construction company by the lender Export-Import Bank of China. As well, according to the source, the FBI is looking into whether there is a financial link to any of the companies owned by Izmirlian.
Meanwhile, the Government of The Bahamas has applied to The Bahamas Supreme Court for Baha Mar to be liquidated. If that ruling is made, Izmirlian and his associates at Baha Mar would end up without any control of the project on the West Bay Strip in New Providence.
A lot is indeed happening with the Baha Mar saga. CEO Izmirlian has been out of the country. Sources said he was in France for most of the past eight days but recently was known to be in Switzerland. Completely on the defensive now, he is said to be requesting the continuing of talks with Prime Minister Perry Christie. However, The Freeport News was informed that Izmirlian was told that he would have to return to The Bahamas first, before a meeting could be arranged with PM Christie.
As recent as early last week when a Bahamian delegation, Baha Mar, China State Construction and Export-Import Bank of China representatives met in China, a deal for the construction of Baha Mar to resume, was almost reached.
The details as disclosed to The Freeport News were that initially Baha Mar asked for an additional loan of $600 million; Export-Import Bank of China was prepared to advanced $300 million; $150 million was to come from China Construction; Baha Mar was to guarantee that $150 million from China Construction; and come up with another $150 million to reach the overall request of $600 million.
Apparently Baha Mar did not accept the terms and now faces a foreclosure.
Published Tuesday, July 21, 2015