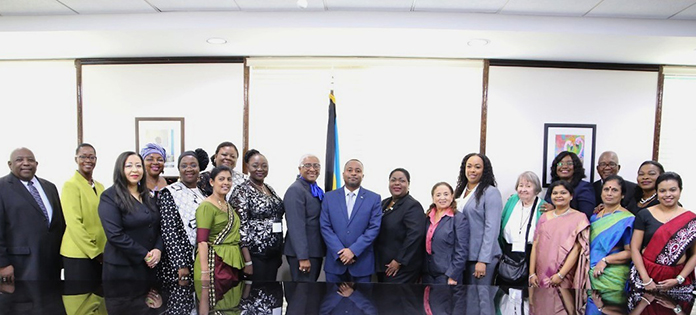 Freeport – Delegates of the International Federation of Women Lawyers (FIDA), led by their International President Grand Bahama resident Jethlyn Burrows, paid a courtesy call on the Minister of State in the Office of the Prime Minister, Grand Bahama, Senator the Hon. J. Kwasi Thompson, on Monday, November 13.
Over 200 delegates are expected on island for their 36th Triennial Conference at the Grand Lucayan from today to November 17. The convention is being held under the theme, "The Economic Empowerment of Women and Children in an Evolving World." During the courtesy call, Minister Thompson welcomed the guests to Grand Bahama and said that while he knows they will have a successful convention, he hopes they will enjoy some of what Grand Bahama has to offer.
FIDA, organized in 1944, is a non-profit, non-governmental organisation in consultative status with the United Nations. The organisation functions to promote the principles and aims of the United Nations in legal and social aspects, as well as to promote friendly international relations and the welfare of women and children.
Also present during the courtesy call were: Senate President, the Hon. Katherine Forbes-Smith, who is expected to address the convention on Wednesday; Senator Jasmine Turner-Dareus; and Acting Permanent Secretary OPM, Grand Bahama, Harcourt Brown. (BIS Photo/Lisa Davis)