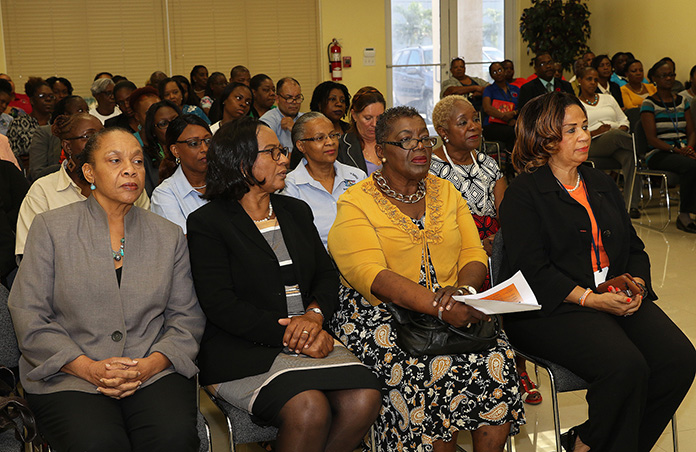 NASSAU, The Bahamas – The Minister of Social Services and Urban Development, the Hon. Lanisha Rolle, has proclaimed November 26th through December 9th, 2017, 'National Women's Week 2017' in The Bahamas. To commemorate this period, the Department of Gender and Family Affairs has organized activities to reflect on the progress of Bahamian women, celebrate their accomplishments and address social issues impacting them in The Bahamas
Minister Rolle announced plans at a press conference at the Ministry, Aventura Plaza, JFK and Bethel Avenue, Friday, November 10th. Among those present were: Cora Bain-Colebrooke, Acting Permanent Secretary; Lillian Quant-Forbes, Acting Director of Social Services; Gaynel Curry, Director of Gender and Family Affairs; Coralie Adderley, Chairperson of the National Women's Advisory Council; and representatives of non-governmental organizations and partners including Zonta Clubs of The Bahamas. The theme for National Women's Week is "Strong Women, Strong Communities, Strong Families."
Minister Rolle, who is the Chairman of the local branch of the Commonwealth Women Parliamentarians Association of the Americas and the Atlantic Region, said National Women's Week is an opportunity to celebrate the achievements of women who have and continue to embed indelible marks in the history of the Bahamas Parliament and the nation.
"It is also an occasion where we must remind ourselves that while we are not there yet, we are well on the way," she said.
Activities include the following: A forum on women's issues, special school assemblies at primary and secondary schools throughout New Providence and the Family Islands at which sitting female parliamentarians will speak.
Sunday, November 26th – Church Service at Most Holy Trinity Anglican Church, Stapleton Gardens, Trinity Way, 9 am
Tuesday, November 28th – Awareness Raising/Report Sharing Session on the Convention on the Elimination of all forms of Discrimination Against Women (CEDAW) in the Department of Physical Planning Hearing Room (Aventura Plaza; JFK Drive and Bethel Avenue) 10 am-2pm. Mrs. Marion Bethel, the first Bahamian to serve as a member of the Expert Committee on the Elimination of Discrimination Against Women will give an address.
Monday, December 4th – CWP Introductory Luncheon – Commonwealth Women Parliamentarians will hold an introductory luncheon at Luciano's Restaurant, West Bay Street for sitting female Parliamentarians and the wives of male parliamentarians. The theme is "Strong Women, Leaders United".
The newly appointed members of the National Women's Advisory Council, headed by Coralie Adderley, were introduced. Minister Rolle thanked them for accepting their appointments. Their duties include recommending programs that will enhance females, monitoring the status of women and providing recommendations for improvements to legislation that affect women and their families.
The Bahamas will celebrate International Day to end Violence against women on November 25th and International Women's Day on March 8th, 2018.
National Women's Week commemorates the anniversary of women who, for the first time in The Bahamas, exercised their right to vote equally with men. The right to vote was attained on November 26, 1962 as a result of the efforts of the Women's Suffrage Movement.
The week incorporates the annual observance of National Women's Day on November 26, which began in 1985 with the recognition of the 25th anniversary of that day. This year in The Bahamas, the observance has been extended to an additional week. The color for the 2017 celebrations is orange.