Government building in Eleuthera goes up in Flames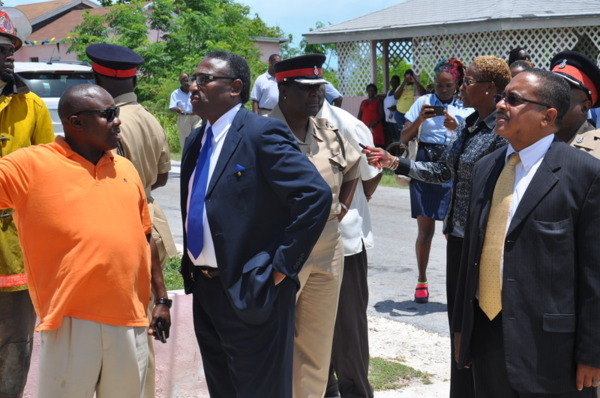 UPPER BOGUE,  Bahamas — Minister of Agriculture, Marine Resources and Local Government the Hon. V. Alfred Gray visited the site of the Local Government complex in Upper Bogue, North Eleuthera, which also housed the Central Government's local office that was destroyed by a fire, Tuesday, July 2, 2013.
Annamae Davis, a janitress at the office complex was the first to alert persons of the fire around 11:05 a.m.
Minister Gray said, "I want to say how grateful I am to God that nobody that worked in this building got hurt.
"I am told that temperatures reached up to 1200 degrees and that's very high, and that is my first thing to thank God for allowing everybody to come out well."
However, the Minister noted that quite a bit was lost including financial records.
"There are two safes in the building and the police will take them out as soon as the building cools down to see what was in them were saved, but there was no records to which we could refer because all of them were destroyed."
He explained that the Post Office and the Magistrates' Court were also housed in the complex, but the documents for the Magistrates' Court were not kept in the building so those were not destroyed in the fire.
Minister Gray said, "I am sure that if I told you that the Government intends to rebuild this building in the shortest possible time that would be correct."
He said he is going to report the findings to the Cabinet and seek their approval to begin reconstruction within the next several weeks.
"I feel sure that by the end of the year, a new building will either be completed or well on its way to replacing this building now."
The Minister thanked the fire department and the police for their quick response so that other buildings surrounding the complex were not damaged.  He also thanked the public because they also tried to help save documents but the fire spread rapidly.
Supt. Walter Evans, Officer-in-Charge of the Fire Services Department said it was too early to draw a conclusion as to the cause of the fire, and officers were still in the process of investigating. However, they are not ruling out that the possible cause may be an electrical short circuit within the facility.
Minister of State in the Ministry of Legal Affairs and MP for Central and South Eleuthera the Hon. Damien Gomez and District Administrator for North Eleuthera including Harbour Island and Spanish Wells, Jolton Johnson, were also at the site.
Mr. Johnson said although no one was seriously hurt in the fire, one employee was airlifted to Nassau for smoke inhalation.