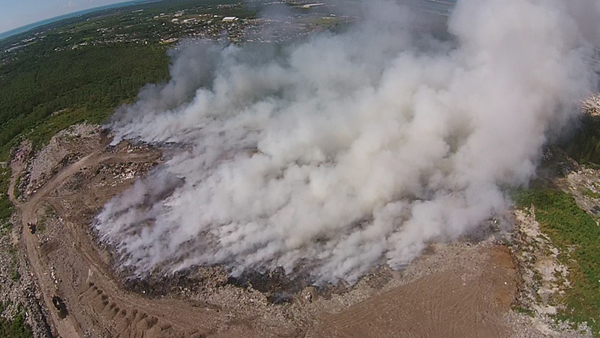 NASSAU, The Bahamas (Nov 3rd, 2015) Renew Bahamas is making steady progress with its fire fighting efforts following a fire at the top of the tipping floorof the Harold Road Landfill on Saturday.
More than 60 per cent of the burned area has already been covered and the company is continuing to place material on the southern flanks – the remaining heavily smoked areas.
The company is pleased that the daily cover previously put down has prevented the fire from going underground into the waste mass and further fueling the historic subterranean fire there. Therefore the fire is mainly on top of the covered area at a minimal depth.
Through the use of a combination of heavy-duty and specialist equipment, the company has placed approximately 300,000 gallons of water per day on the fire,along with about 2,500 tons of wet fine material.
Residents in the surrounding communities can expect to experience discomfort from the smoke for a further few days.
Renew Bahamas thanks the public for its continued support.
The company will continue to post updates regarding its progress in dealing with this fire.