Junkanoo money paid on-time!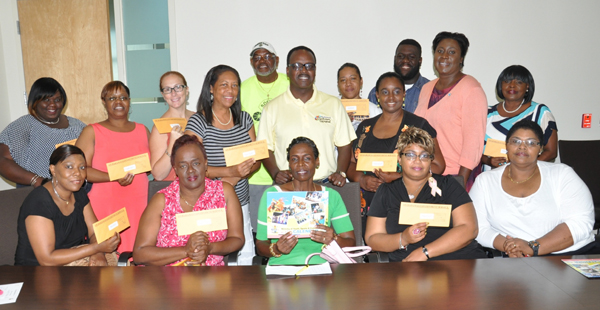 FREEPORT, Grand Bahama – The distribution of seed money to senior and junior Junkanoo groups was not the only good news shared during the cheque presentations by Youth, Sports and Culture Minister, Dr. the Hon. Daniel Johnson on Saturday at that Ministry, but also that the Junior Junkanoo parade will now be free of charge to all spectators.
Minister Johnson shared that there were meetings with leaders from senior and junior groups and the National Junkanoo Committee which all went well.
"Two fantastic things emerged from it. One, the junior parade which is the feeder and the future of Junkanoo in The Bahamas, we're going to make those parades in Grand Bahama this year free access. We're making sure the art, the fun and the joy of Junkanoo is foremost in the minds of our young people and therefore, we are granting free access to everyone to come and see what these young people can do.
"This is the end of National Youth Month, and this is the gift I wanted to come and bring to Grand Bahama."
The second part, continued the Minister, is the local organising committee of the Junkanoo Committee will now take control of the marketing, ticketing, promotion and organization of the local parade.
He said, "It came out that we will, as the Ministry team responsible for getting the Junior Parade up and running, and your local organising committee of these fantastic professionals that you have — now take control of marketing, ticketing, promotion, production of the senior parades."
In getting ready for the Junkanoo season, Minister Johnson added that everyone should know there will be cultural activities year-round with Junkanoo, the Road Carnival, Goombay Summer and another event that will be announced in 2016, of which everyone will be proud.
Kaylesa Beneby, co-chairperson of the Grand Bahama Junkanoo Committee added that it is expected that there will be a great turnout this year. With the announcement of Junior Junkanoo being free this year, it is hoped people will come out in "full force."
"Grand Bahama is going to turn up," she said. "Being challenged with finances after the season of Christmas, people find it hard to come out and spend the extra money." After people would have spent funds to come to the senior parade, and then turn around after that for the junior with so many young children wanting to watch, it can be difficult.